ELF BAR BC5000 DISPOSABLE VAPE 5000 PUFFS in Dubai, Abu Dhabi, UAE
The perfect disposable vape device for those who are always on the go This ultra-portable and compact device packs a powerful punch with up to 5000 puffs of deliciously flavored vapor. With a 1200mAh battery, you can enjoy long-lasting vaping sessions without the need for constant recharging.
The Elf Bar 5000 features a sleek and stylish design that is both ergonomic and easy to use. Its draw-activated firing mechanism makes it incredibly user-friendly, so you can simply inhale to enjoy your favorite flavor. The device is pre-filled with 10ml of premium e-liquid, which contains a high-quality nicotine salt formula that delivers a smooth and satisfying hit every time.
Choose from a wide range of delicious flavors, including the fruity Mango Peach, the refreshing Blue Razz Lemonade, and the classic Tobacco. The Elf Bar 5000 is perfect for vapers of all levels, whether you're a beginner or an experienced vaper. It's also great for those who are looking for a hassle-free and disposable vape option.
Overall, the Elf Bar 5000 puffs is a reliable and high-quality disposable vape device that offers an exceptional vaping experience. Get your hands on one today and enjoy the convenience of a disposable vape device with the performance of a traditional vape pen!
ELF BAR BC5000 DISPOSABLE VAPE 5000 PUFFS Features:
5000 Puffs per Disposable
E-Liquid Capacity: 13ml
650mAh Battery
Dual Mesh Coils
5% (50mg) Strength Only
USB-C Charger not included
ELF BAR BC5000 DISPOSABLE VAPE 5000 PUFFS Flavours:
Blue Razz Ice: A classic blue raspberry flavor finished with a hint of ice.
Blueberry Energize: Sweet and tangy, this blueberry blast will energize your taste buds!
Cranberry Grape: The popular superfood mixed with juicy grape.
Cuba Cigar: The traditional earthy flavor profiles of cigar made with only the best tobacco leaves.
Energy: Need a kick of energy without the calories? Try this.
Green Apple: Vibrant tart crunchy apple flavor featuring a slightly sweet finish you will love.
Guava Ice: Let this sweet flowery burst of chilled ripe guava be a mouthwatering escape from your daily grind.
Kiwi Passionfruit Guava: A unique and flavorful trio of tart kiwi, Brazilian passionfruit, and tropical guava.
Lemon Mint: A refreshing luscious lemon flavor and mint mix.
Malaysian Mango: Tropical essences of the islands, delivering the mouthwatering floral flavors of ripe mango.
Mango Peach Apricot: Delicate fruity flavors fused together for a pleasant floral finish.
Mango Peach: A tropical duo of mouth-watering mango and peach.
Passionfruit Orange Guava: An exotic combination! The unique sweetness of guava, the slight tartness of passionfruit with a splash of sunny orange.
Peach Ice: A true classic disposable flavor featuring a handful of blended peaches with a cool balance of menthol.
Peach Mango Watermelon: The tropical flavors of peach and mango finished with the aromas of sweet melon.
Pineapple Coconut Ice: An irresistible ice and tangy pineapple layered with smooth creamy coconut.
Red Mojito: A refreshing mojito cocktail with all the fixings.
Sakura Grape: The flavors of Japanese grape combined into one flavorful disposable.
Sour Apple: Tangy and tart green apples that will keep you coming back for more.
Strawberry Banana: The perfect blend of sweet strawberries and creamy bananas.
Strawberry Kiwi: A tangy and flavorful combination of juicy strawberries and tart kiwis.
Strawberry Mango: A fresh burst of mango paired with ripe strawberry.
Strawberry Pina Colada: Succulent pineapple, smooth creamy coconut and fresh-picked strawberries will awaken your senses.
Sweet Menthol: Enjoy the cooling sensation of menthol with a sweeter profile that's not too overpowering.
Triple Berry Ice: A concoction of assorted berries finished with a refreshing icy exhale.
Tropical Rainbow Blast: An array of wild berries infused with sweet tropical chewy candy.
Watermelon Bubblegum: The aromas of flavorful bubblegum and watermelon that's bubba-licious on your taste buds.
Watermelon Cantaloupe Honeydew: Soft, sweet and satisfying, this delightfully fresh melange of three melons is invigorating.
Watermelon Ice: A ripe watermelon flavor with a kick of ice!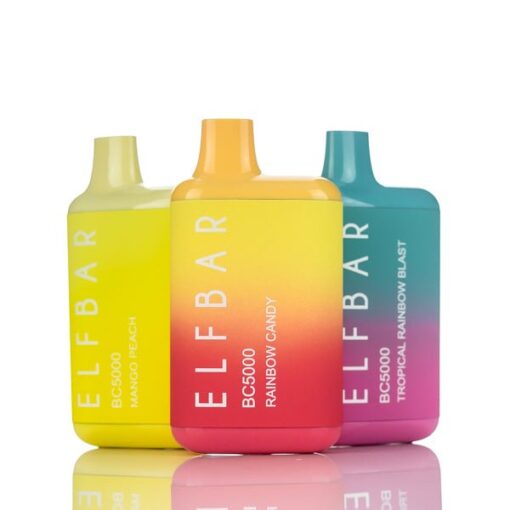 Kit Includes:
1× Elf bar BC5000 Disposable Pod Device 650mAh (Rechargeable)