Pod Salt Core 30ml Salt Nic E-Liquid (UAE) – 20mg
Shop the Pod Salt Core 30ml Salt Nic E-Liquid (UAE) – 20mg at Gen Vape. This is the pod salt's award-winning, British-made e-liquid collection provides the smoothest and most refreshing vaping experience that hits the spot. The Core range offers a premium selection of classic and refreshing flavors.
The Pod Salt Core range offers a premium selection of British-made flavors. Blended with our award-winning Nicotine Salt to produce a perfectly smooth and effective vaping experience. Designed to taste delicious. Designed to Hit the Spot. This Pod Salt Core range is ESMA Compliant (UAE Registered Liquids).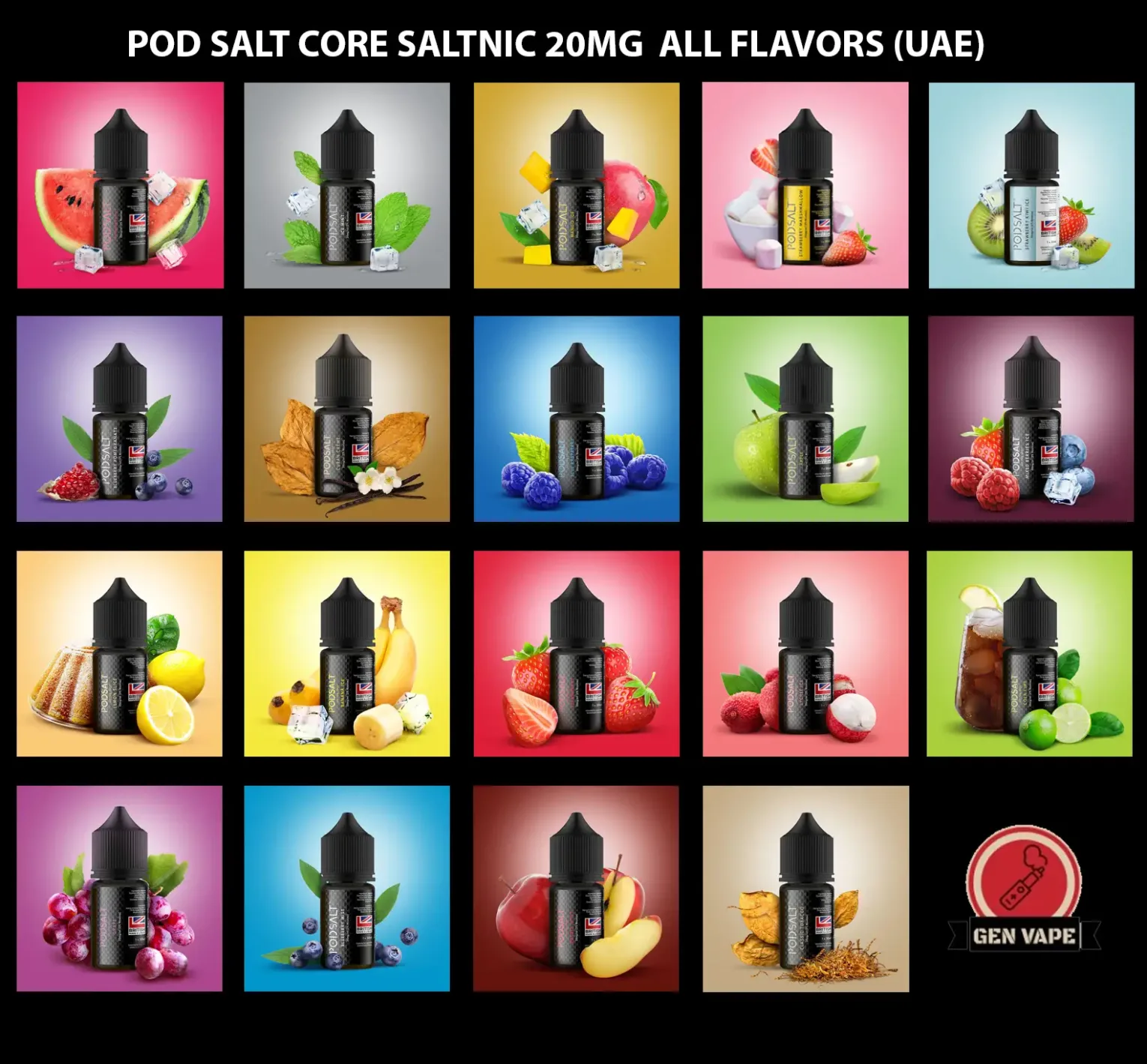 Pod Salt Core Nic Salt 30ml Features:
POD SALT CORE SALTNIC FLAVORS
Watermelon Breeze: Quite simply a mouth-watering vape. The combination of refreshing watermelon with an icy breeze makes for a cool and unforgettable experience.
Guarana: A tropical fruit sensation. Exotic Brazilian guarana with a distinctive sweet and refreshing aftertaste. Quite simply an exquisite mouth-watering vape.
Blueberry Pomegranate: A wonderful combination of rich blueberries and exotic pomegranate. Together, you get that perfect balance between sweet and tangy your taste buds love.
Mango Ice: A reinvigorating blend of exotic mango fruits finished with an ice cool blast.
Banana Ice: Deliciously sweet and creamy Banana with a fresh icy combo. Easily the pick of the bunch!
Lemon Slice: A slice of your favourite Lemon sponge cake. A deliciously smooth and creamy dessert making this an irresistible treat.
Strawberry: Perfect for a summertime vape or for an after-dinner sweet hit, this strawberry vape is jam-packed.
Cola Lime: A timeless classic. Tasty cola is piqued with a fresh bittersweet lime flavour.
Lychee Ice: Refreshing Lychee fruit given a cool, icy twist. A native delicacy from tropical Southeast Asia, this sweet Lychee blend works wonders in our award-winning nicotine salt format.
Classic Tobacco: Make the switch to a classic British tobacco flavoured e-liquid. Meticulously crafted for ex-smokers.
Ice Mint: The ultimate cooling experience. Feel the icy breeze of refreshing mint and revitalise your senses.
Apple: This Apple Nicotine Salt e-liquid by Pod Salt provides the most authentic apple flavour e-liquid in a nicotine salt format.
Furthermore, We are a retail Vape shop in International City, Dubai, UAE. We deliver all over the UAE. Gen Vape Dubai is a retail outlet specializing in selling electronic cigarette products. Our best-selling products are disposable vape, pod system, Juul, iqos, heets, Myle, e-liquid, yuoto disposable, pod salt disposable, Nexus, Elf Bar, vgod, vape coil, vape device, etc.