VGOD E-LIQUID 6MG 60ML
Buy VGOD E-LIQUID 6MG 60ML at Gen Vape Dubai. This VGOD E-Juice has unique flavors in its own right; there is something for everyone in the complete line-up. All VGOD e-juice is available in 60ml chubby gorilla bottles with 6mg nicotine strengths. Above all, VGOD is trying to satisfy all vape lovers' customers from the beginning. This E-juice aims to deliver the perfect throat hit by limiting too much harshness on the inhale and exhaling notes with a 70/30 VG/PG ratio that always delivers ultimate flavor and enormous clouds.
It's includes Cigar, Lush, Bomb, Fruit, Candy and Dessert Lines. 
BUY VGOD E-LIQUID 60ML ALL FLAVORS 6MG NICOTINE
Moreover, VGOD Vape Liquid, blended in California from the finest ingredients, offers the tastiest and most enhanced vaping experience possible! VGOD master mixologists only acquire the most exceptionally pure, high-quality extracts and nicotine to avoid all unnecessary additives. That is to say, VGOD can guarantee flawless premium quality e-juice.
VGOD E-LIQUID 60ML Key Feature:
Bottles Size: 60ml

Nicotine

 Strength: 3mg

Bottles Type: Squeeze Unicorn Bottles

VG/PG: 70/30

Flavors Line: CIGAR DESERT/ LUSH/BOMB/ICED BOMB
VGOD E-LIQUID 60ML CIGAR
DESERT
Cubano: VGOD's Cubano is a full flavor topped with a drizzle of soft creamy vanilla undertones.
Cubano Black: Cuban Black cigar flavor hits your palate, commingling perfectly with hints of rich, creamy custard. The only thing that you will be thinking of as you exhale this smooth,
Cubano Silver: Cuban Silver cigar infused with a warm top note of buttery vanilla custard, rounded off with a hint of spice, sweet caramelized brown sugar, and honey for the finish.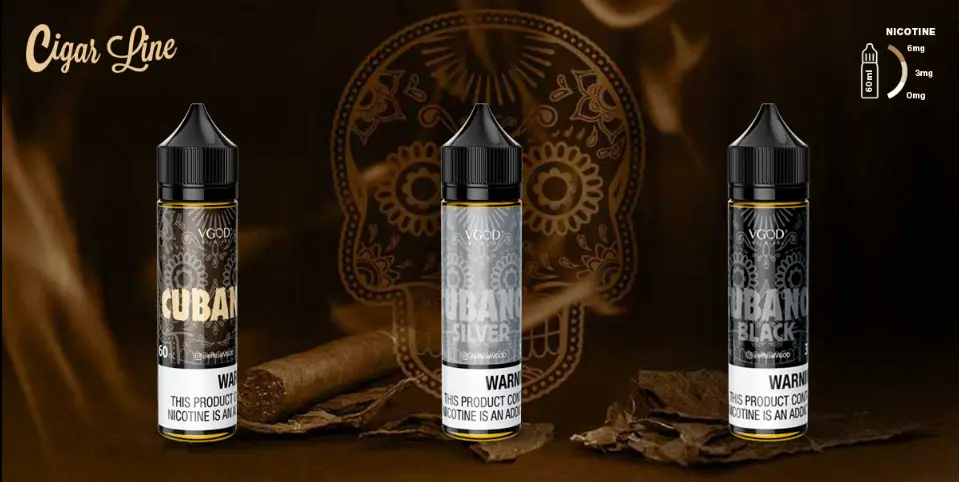 VGOD E-LIQUID 60ML BOMB
Apple Bomb: It is a perfect time for a refreshingly juicy and crisp Granny Apple, so you reach inside your pack to find your mod.
Berry Bomb: Balance of sweetness and tangy sour strawberries. As you inhale, it's instantly satisfyingly sublime strawberry zest on the top note!
Mango Bomb: VGOD's mouthwatering nectarous Mango Bomb, fully ripened and drippingly thick slices of fresh juicy mangoes.
Purple Bomb: Purple Bomb lends the essence of fresh Concord purple grape juice bursting with extra sweetness from an added grape candy mix.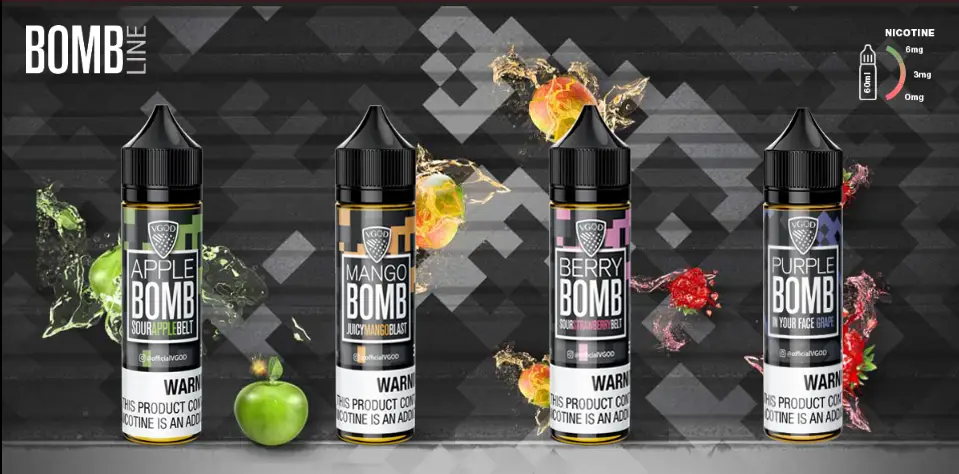 VGOD E-LIQUID 60ML ICED BOMB
Apple Bomb Ice: This offers the semblance of a green, glossy ripened Granny Smith apple that is crisp at every bite. It's dripping with the fruity juiciness of the flesh from the apple at the forefront of the inhale. Consequently, it's amazing.
 Mango Bomb Ice: A harmoniously balanced flavor that transports you directly to soft-ripened yellow slices of a freshly peeled juicy mango with a frosty mentholated finish; as a result, these flavors are incredible.
Purple Bomb Ice: VGOD Purple Bomb Ice delivers a frozen chill alongside a powerful punch of delicious Concord grape juice sweetened with a hint of an added sugary grape candy and a frosty chill for the finish.
Berry Bomb Ice: Delivers true sensory elicitation of zesty red ripened strawberries wrapped in a soft sour strawberry belt candy mixed with a refreshing icy menthol finish.
VGOD E-LIQUID 60ML LUSH ICE
Lush Ice: Lush Ice is VGOD's signature watermelon candy flavor infused with a fresh breeze of menthol.
Sourlucious: Sourlucious kicks off with a smooth yet tart wave of sour watermelon candy on the inhale with blended undertones of mixed melons upon a sugary exhale.
Luscious: Luscious is a delicious burst of fresh watermelon on the exhale with sweet undertones of mixed melons.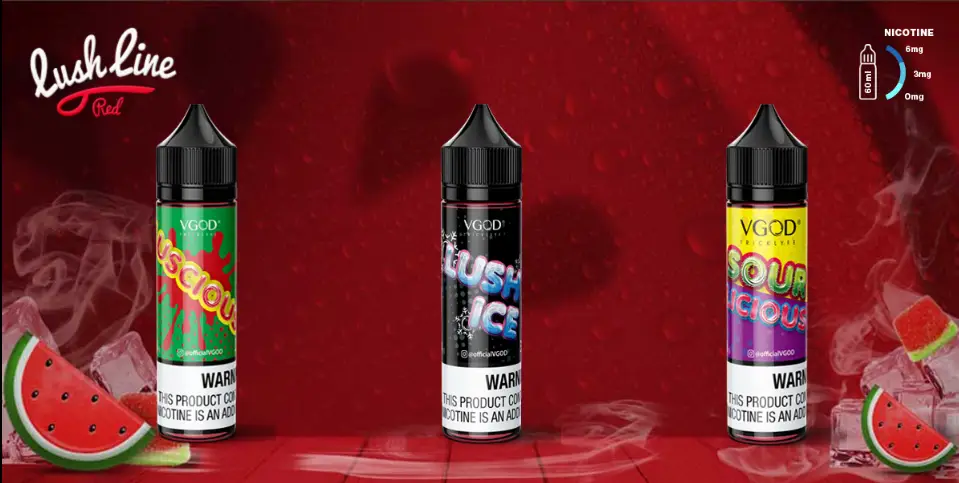 In addition, VGOD vape E-liquid is blended in California from the finest ingredients to offer the most tastiest and enhanced vaping experience possible! VGOD master mixologists only acquire the most exceptionally pure, high-quality extracts and nicotine to avoid all unnecessary additives. This way VGOD can guarantee absolutely flawless premium quality E-juice.
To optimize performance and satisfaction, VGOD mixologists strive for well balanced ejuice blends by embracing a tiered arrangement of flavorings for added depth while complementing flavors with just the right amount of sweetness for more dynamic flavors.
Furthermore, We are a retail Vape shop in International City, Dubai, UAE. We deliver all over the UAE. Gen Vape Dubai is a retail outlet specializing in selling electronic cigarette products. Our best-selling products are disposable vape, pod system, Juul, iqos, heets, Myle, e-liquid, yuoto disposable, pod salt disposable, Nexus, Elf Bar, vgod, vape coil, vape device, etc.