I LOVE SALTS E-JUICE 25MG & 50MG
Buy I Love Salts E-liquid at Gen Vape Dubai. This E-liquid comes with 25MG and 50MG nicotine strength and you receive the display case of 6 bottles of each flavor: Juicy Apples, Fruit Cereal, Grappleberry, Spearmint Gum, Strawberry Candy, and Sweet Tobacco. You may order supplemental individual bottles in other salt nicotine strengths to backstop or stock display with dual facings of 25MG and 50MG.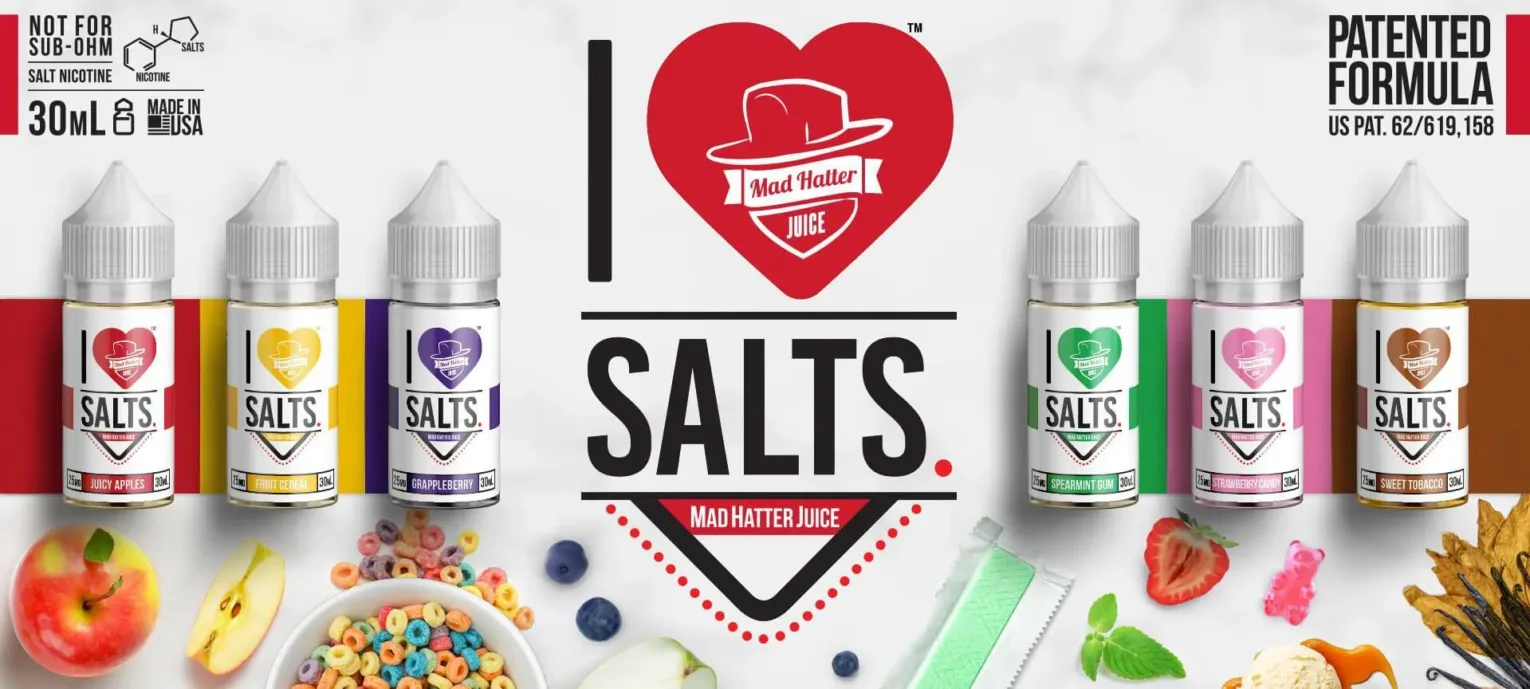 I love salts E-Juice Key Features:
Made In USA
30ml nic salt juice by I Love Salts
50/50 PG/VG
Available in 25mg (2.5%) or 50mg (5%) nicotine strengths
Made with synthetic nicotine
Compatible with pod mods
Salt nicotine is more efficient and less harsh to vape
Contains nicotine, vegetable glycerin, and propylene glycol
 Not for use in sub-ohm devices
Mad Hatter, I Love Salt Review
Moreover, It's From the Mad Hatter Juice line, Spearmint By I Love Salts E-LIQUID  Mad Hatter nicotine salt is a sweet and minty treat for anyone who loves to chew gooey gum for hours at a time. The cold menthol chills your whole mouth while the punch of sugar acts like a present for your sweet tooth. Every draw of Spearmint vape juice will leave you feeling fresh and cool, making it the perfect ADV. The inhale smacks you with a powerful blast of spearmint-like splendor. As your mouth cools down, the sweetness of this flavor will provide you with that sugar fix that you know and love. Every exhale allows the icy menthol to take over your palate.
Cool menthol infused in chewy gum, paired with the smoother feel of salt nicotine, makes the arctic blast of I LOVE SALTS E-LIQUID BY MAD HATTER Spearmint nic salt E-Liquid a must-have. It'll keep you feeling breezy throughout the day like only Mad Hatter Juice can.
I LOVE SALTNIC E-JUICE 25MG & 50MG FLAVORS
Spearmint Gum – fresh, icy spearmint that will tingle your tongue with a menthol flavor like gum
Juicy Apples – Glorious of freshly-picked apples that are beyond crisp and refreshing
Fruit Cereal – The most magnificent reproductions of sugary, fruity cereal that has been soaked in creamy, cold milk
Grappleberry – Fresh blueberries bursting with the sweet and tangy goodness of grapes and apples to satisfy your thirst
Strawberry Candy – Sweet and tangy strawberry flavor infused with sugary taffy that sticks to your sweet tooth long after the vapor has left your mouth
Sweet Tobacco – Smooth, rich tobacco flavor with the addition of nutty sweetness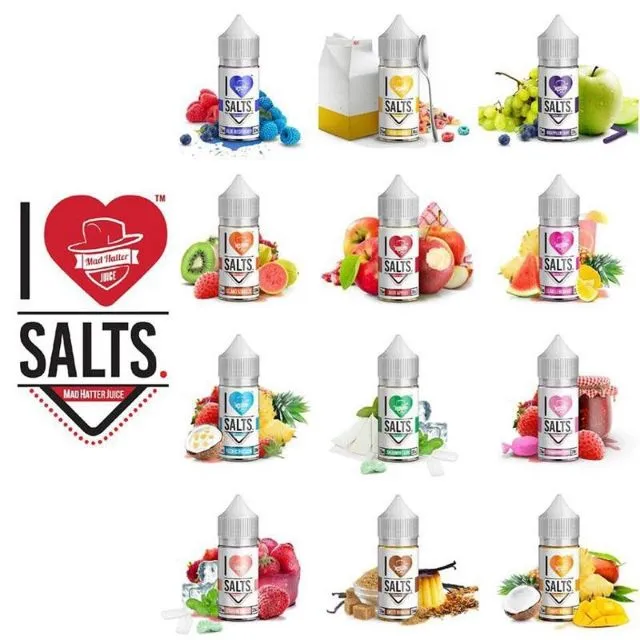 ABOUT I LOVE SALTS E-LIQUID
Accordingly, anyone who appreciates high-quality, sensational E-Liquids is familiar with Mad Hatter Juice. Ever since this brand released a line of vapes, each designed for pod mods- I LOVE SALT E-LIQUID BY MAD HATTER has been nothing but a huge success. Containing high-quality nic salts, these exquisite juices give you excellent flavor, a nice throat hit, and a satisfying nicotine buzz unlike any other. Now what could be better than that?
This I LOVE SALTNIC E-JUICE 25MG & 50MG allows you to enjoy your very favorite vape flavors when using your pod device. The blast of quality nic salts will give you a satisfying buzz while your taste buds are treated to absolutely yummy flavor. What are you waiting for?
Furthermore, experience some classic Mad Hatter Juice vaping goodness today! We are a retail Vape shop in International City, Dubai, UAE. We deliver all over the UAE. Gen Vape Dubai is a retail outlet specializing in selling electronic cigarette products. Our best-selling products are disposable vape, pod system, Juul, iqos, heets, Myle, e-liquid, yuoto disposable, pod salt disposable, Nexus, Elf Bar, vgod, vape coil, vape device, etc.