JUUL 2 PODS 18MG 2pc/pack AVAILABLE IN UAE
The JUUL2 range includes a smart device packed with features such as a 25% bigger battery than the original JUUL device, a child-lock system, and a counterfeit detector to ensure only 100% authentic JUUL2 pods are used with the JUUL2 device. Browse the full range of JUUL vape kits; pod devices and replacement pods. Yen vape is a trusted retailer of all JUUL vape products including the all-new JUUL2 Starter Kit and compatible pods.
The replacement pods are available in a range of new, tempting flavors for you to choose from depending on your preference:-
Ruby Menthol features a wild blush medley flavor with a fresh, wintry finish.
Summer Menthol feature a lush, tropical flavor with a breezy cooling exhale.
Virginia Tobacco feature bright, authentic tobacco flavor with a subtly sweet, toasted finish.
Crisp Menthol feature a fresh green menthol flavor with a brisk, cooling finish.
Polar Menthol feature a bold, icy menthol flavor with an intensely cooling finish.
Autumn Tobacco feature mellow tobacco flavor with tangy orchard harvest notes.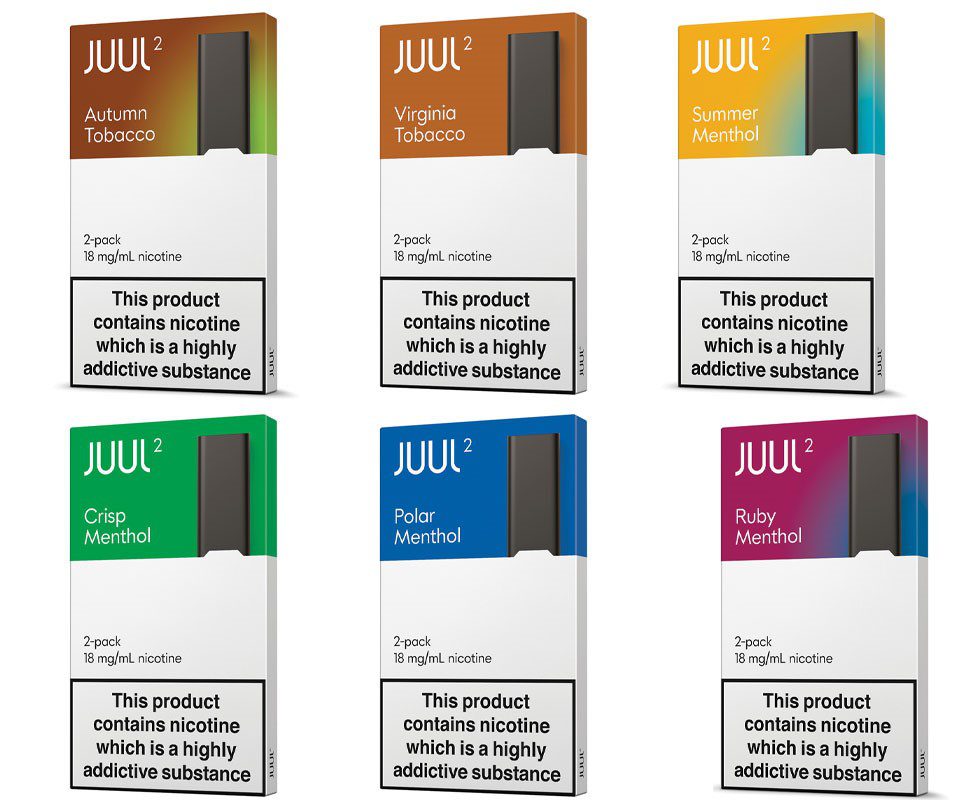 JUUL 2 PODS 18MG 2pc/pack AVAILABLE IN UAE Features:
Each pack contains two 18 mg/mL nicotine strength pods. Only compatible with JUUL2 Device.
Each pack contains x2 JUUL2 pods.
70% more e-liquid per pod. High-quality ingredients Enhanced draw with consistently robust vapor.
Liquid included: Yes.
18mg/ml nicotine content.
Store in a cool, dry, well-ventilated place. Recommended storage temperature: 0 ° C to 25 ° C.
Includes: 2 x JUUL2 pods.
Ingredients: Vegetable glycerin, Nicotine, propylene glycol, benzoic acid, flavorings.
Quick Links:
Learn more about JUUL 2 Click the Article