POD SALT 20MG NIC SALT E-JUICE NEW FLAVORS 30ML
Discover the POD SALT 20MG NIC SALT E-JUICE NEW FLAVORS 30ML (UAE) at Gen Vape. This is the new Pod Salt Nic Salt E-Liquids are available in 20mg strengths and are supplied in 30ml TPD compliant bottles. These juices have been formulated in 50% VG and 50% PG blends to ensure optimum performance in most low-powered starter kits and pod kits.
Moreover, This Pod Salt New Salt Nic flavor offers a premium selection of British-made flavors. Blended with our award-winning Nicotine Salt to produce a perfectly smooth and effective vaping experience. Designed to taste delicious. Designed to Hit the Spot. This Pod Salt Core range is ESMA Compliant (UAE Registered Liquids).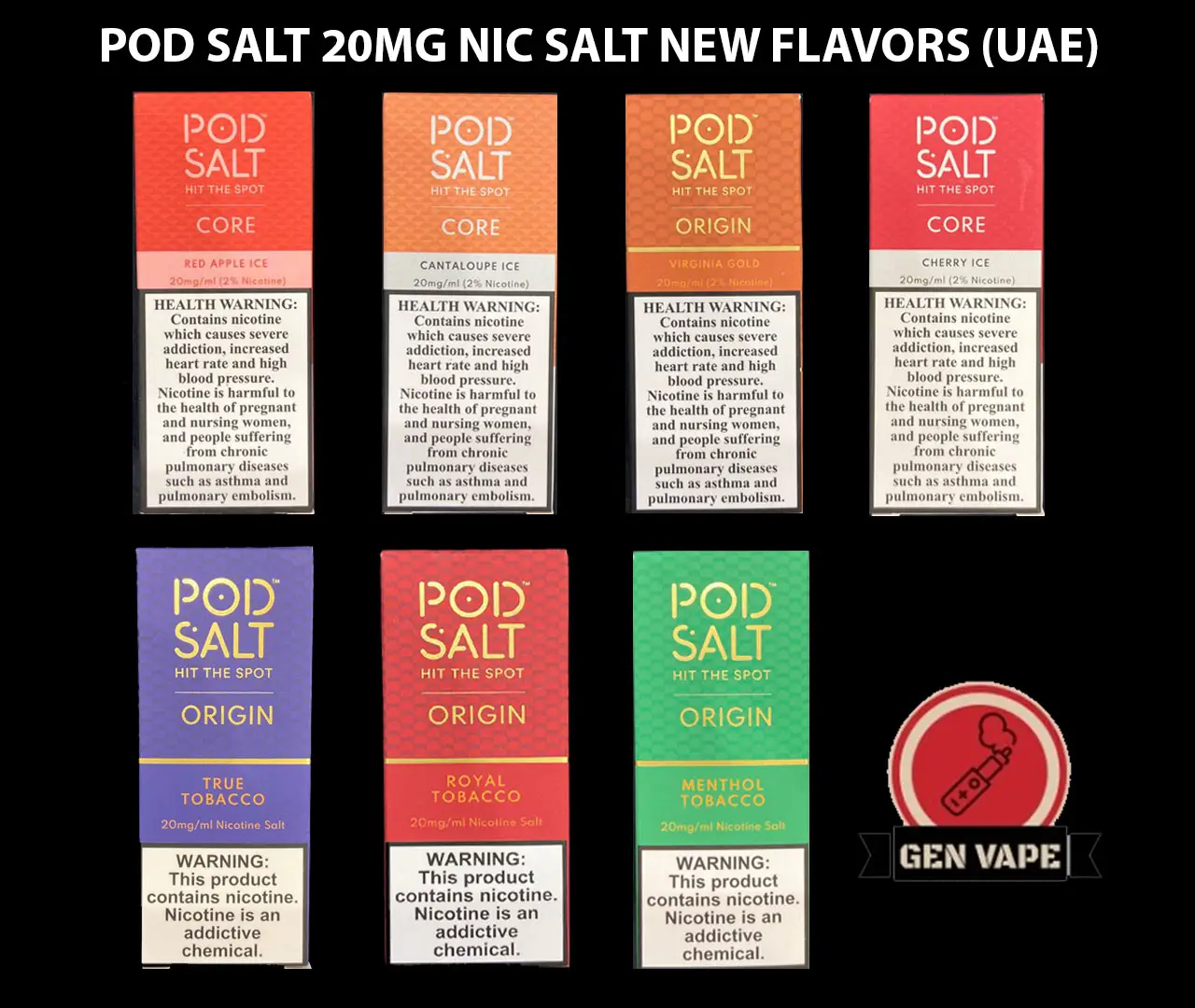 Pod Salt New Nic Salt 30ml Features:
 Bottle Size: 30ml E-Liquid
 Nicotine Strength: 20mg
 Nicotine type: Nicotine Salts
 Ratio: 50VG/50PG
 Made in the UK
 TPD Compliant
 Tamper evident seal (chubby gorilla bottle)
 Designed for Starter Kits and Pod Devices
 NOT for Sub-Ohm Vaping
For the best Pod Salt experience, we recommend MTL style vaping, and any low-wattage device using 10-20 watts with medium to tight draw 0.8-1.2ohm resistance.
POD SALT  NEW SALT NIC FLAVORS
Rich and tart cherries come together for a deliciously juicy vape. Complimented with an icy breeze for the perfect all-day flavor. Blended with our award-winning Nicotine Salts formula.
Delightfully classic and fresh. Crisp red apples deliver signature sweetness with each puff. Highlighted by a cooling ice breeze to finish. Blended with our award-winning Nicotine Salts formula.
Juicy and tender, each inhale delights the taste buds with sweet cantaloupe melon slices. Dashed with ice for a refreshing finish. Blended with our award-winning Nicotine Salts formula.
Inspired by the famous mid-west rolling tobacco. This deep, well-roasted flavor enjoys being mild but boasts a sweet, vanilla hint to keep you coming back for more.
For the refined palette, this mellow tobacco is well-rounded and light. Richly highlighted by light caramel that offers sweet notes with each puff.
The most authentic tobacco flavor around, this is a must for tobacco connoisseurs. Full-bodied and robust, enjoy warm, natural earthy tones with hints of sweetness. Ideal for heavy smokers.
Reminiscent of the menthol cigarette, this tobacco tastes just like the hand-rolled flavors you love with a refreshing menthol breeze to cool those warm tastiest. Perfect for those transitioning from smoking to vaping.
About Pod Salt Liquid
This is Pod Salt's award-winning, British-made e-liquid collection that provides the smoothest and most refreshing vaping experience that hits the spot.
Furthermore, We are a retail Vape shop in International City, Dubai, UAE. We deliver all over the UAE. Gen Vape Dubai is a retail outlet specializing in selling electronic cigarette products. Our best-selling products are disposable vape, Nicotine Pouches, pod systems, Juul, iqos, heets, Myle, e-liquid, yuoto disposable, pod salt disposable, Nexus, Elf Bar, vgod, vape coil, vape device, etc write us a review on Trust Pilot.