IQOS ILUMA PRIME NEON LIMITED EDITION
IQOS Iluma Prime is the newest addition to the IQOS family of products. This product is designed for the serious vaper who wants the best of both worlds. It's a sleek and stylish device that still delivers the same great flavor. At a glance, it has the look of a lighter – but it's much more than that. IQOS Iluma Prime is a dry herb vaporizer that uses a heating technology that is only bested by none other than the IQOS. It is the perfect choice for the vaper who wants a sleek design that is powerful. With a single click of the button, you can tell your IQOS Iluma Prime to heat up, or you can take longer to heat it up. This product is a must-have for the vaper who likes things simple, sleek, and effective.
Notice:
IQOS PRIME ILUMA™ is specially designed to be used only with TEREA™ sticks.
Do not use IQOS PRIME ILUMA™ and TEREA™ sticks with previous IQOS™ generations, as this may cause damage to your device.
Do not ingest or disassemble TEREA™ sticks. It contains a sharp metal part that can cause serious injury if swallowed.
Keep out of reach of children.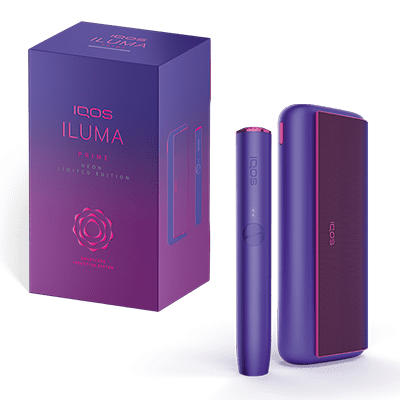 IQOS ILUMA PRIME NEON are Safe To Use?
IQOS Iluma Prime is a new innovation that was created to offer smokers an alternative to traditional tobacco. This new heating tobacco with induction technology promises to provide smokers with a more effective and cleaner substitute. The idea is that induction heating will provide a cleaner and safer experience. Induction heating is different from the conventional heating methods that are used to smoke tobacco because it doesn't use fire. IQOS Iluma Prime is a safer and more effective way to smoke tobacco.
The IQOS ILUMA PRIME Comes with Variety Of Colors
IQOS Iluma Prime Colors are a series of four colors that can be selected when purchasing IQOS Iluma. They are designed for various moods, such as for a night on the town or a day at the beach. The company has added new colors to its product line, including Obsidian Black, Jade Green, Gold Khaki, and Bronzed Taupe.
Where to Buy IQOS ILUMA PRIME NEON?
IQOS Iluma Prime is a brilliant solution for those who want to try out the new IQOS technology. You can buy IQOS Iluma Prime in just a few clicks on Gen Vape Dubai's website. With the IQOS ILUMA PRIME NEON, you can find the perfect balance between flavor and convenience. UAE residents can get the IQOS ILUMA Prime in Dubai. Would you like to be among the first to purchase it?
Please feel free to contact us on +971521685235 if you have any questions.
For use with Terea sticks only.
QUICK LINKS: