Looking for a smokeless and discreet way to get your nicotine fix? Look no further than Pablo Nicotine Pouches, now available in UAE through genvapedubai.com.
Pablo Nicotine Pouches are a smokeless tobacco alternative made with a blend of natural fibers and nicotine, available in a variety of flavors with 30mg and 50mg strengths. They are designed to be placed under your upper lip, providing a quick and convenient nicotine hit without the need for combustion or smoke.
At genvapedubai.com, we offer a variety of Pablo Nicotine Pouches to suit your preferences, including Mint, Mango Ice, Strawberry lychee, Bubblegum, and Berry flavors. We also offer different nicotine strengths to cater to your individual needs.
Exploring the World of Pablo Nicotine Pouches: A Game-Changer for Vaping Enthusiasts
Understanding the Pablo Nicotine Pouch
Nicotine pouches have gained significant traction as a tobacco-free alternative for those who seek nicotine satisfaction without the need to light up a cigarette or use traditional vaping devices. Pablo Nicotine Pouches are no exception. Let's take a closer look at what sets them apart.
1. What Are Pablo Nicotine Pouches?
Pablo Nicotine Pouches are small, discreet pouches filled with a blend of nicotine, flavorings, and other carefully selected ingredients. Unlike traditional tobacco products, these pouches are smoke-free, spit-free, and tar-free, making them a cleaner alternative for nicotine consumption.
2. The Origin of Pablo Nicotine Pouches
Pablo Nicotine Pouches originate from a dedication to innovation in the vaping industry. They were designed to offer consumers a convenient way to enjoy nicotine without the drawbacks of smoking or using e-cigarettes.
The Benefits of Pablo Nicotine Pouches
Now that we've covered the basics, let's explore the benefits that have made Pablo Nicotine Pouches a sought-after choice among vaping enthusiasts.
3. Discreetness
One of the primary advantages of Pablo Nicotine Pouches is their discreet nature. They resemble small tea bags, making them easy to carry and use without drawing unwanted attention.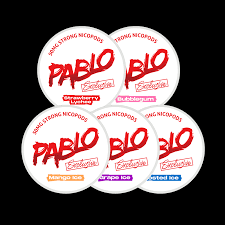 4. Variety of Flavors
These pouches come in an array of enticing flavors like Ice Cold, Banana Ice, Bubblegum, Mango Ice, Strawberryand  Lychee these allowing users to customize their nicotine experience. From fruity to minty, there's a flavor for every palate.
5. Nicotine Satisfaction
Pablo Nicotine Pouches deliver a consistent and controlled dose of nicotine, providing the satisfaction that users seek without the need for combustion.
6. No Lingering Odor
Unlike smoking, using Pablo Nicotine Pouches doesn't leave behind a lingering, unpleasant odor, making them a more socially acceptable choice.
Why Pablo Nicotine Pouches Are a Hit on genvapedubai.com
Pablo Nicotine Pouches have made quite an impression on genvapedubai.com for several reasons.
7. Easy Accessibility
Genvapedubai.com ensures easy access to Pablo Nicotine Pouches, making them readily available to their audience.
8. Quality Assurance
The website takes pride in offering high-quality nicotine pouches, ensuring their customers get the best vaping experience possible.
How to Use Pablo Nicotine Pouches
9. Simple Application
Using Pablo Nicotine Pouches is a breeze. Simply place a pouch under your upper lip, and let it gradually release nicotine. There's no need for complicated setups or maintenance.
So why wait? Try Pablo Nicotine Pouches today and discover a new way to enjoy nicotine without the harmful effects of smoking. Order now from genvapedubai.com and enjoy fast and convenient shipping throughout the UAE.
You can purchase Pablo Nicotine Pouches conveniently on genvapedubai.com. Simply visit their website and explore the available options.
Furthermore, We are a retail Vape shop in International City, Dubai, UAE. We deliver all over the UAE. Gen Vape Dubai is a retail outlet specializing in selling electronic cigarette products. Our best-selling products are disposable vape, Nicotine Pouches, pod systems, Juul, iqos, heets, Myle, e-liquid, yuoto disposable, pod salt disposable, Nexus, Elf Bar, vgod, vape coil, vape device, etc write us a review on Trust Pilot.