TOKYO E-LIQUID 3MG 60ML ALL FLAVORS
Buy Tokyo e-liquid 60ml at Gen Vape Dubai. This premium E-liquid that will take your vaping experience to the next level. Made from the finest ingredients and crafted with care, Tokyo E-Juice offers a deliciously smooth and satisfying vape that you won't be able to put down. Tokyo Freebase offers 70/30 VG/PG with the best flavors!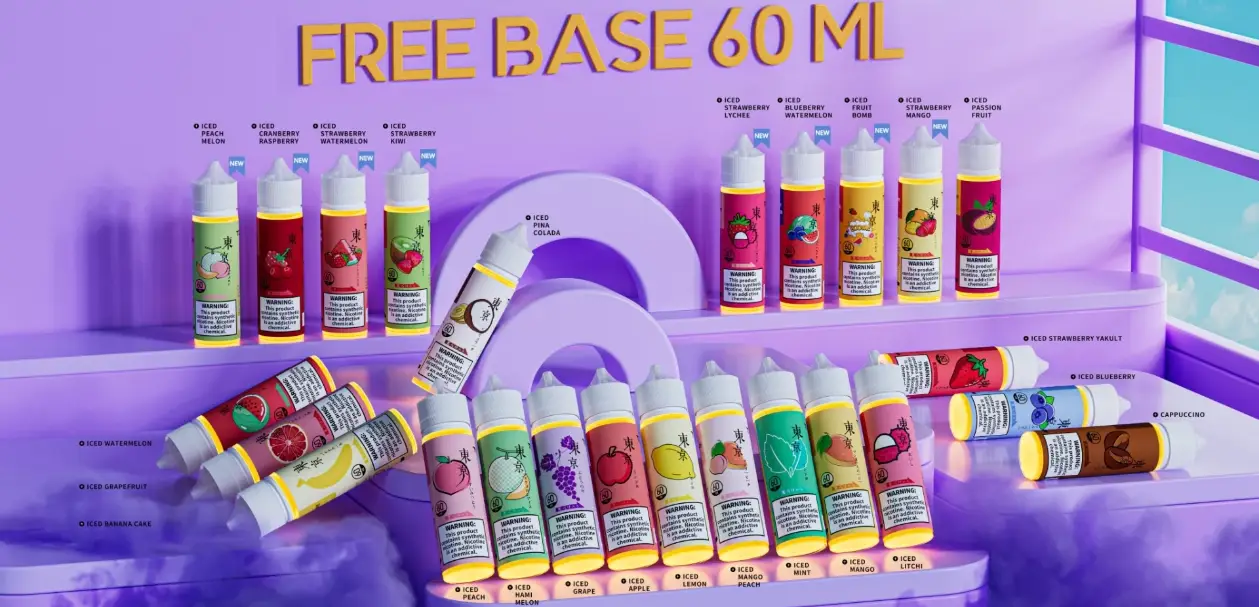 Best Buy Tokyo Freebase 3mg In UAE
With its unique blend of flavors, Tokyo Juice delivers a bold and intense taste that will tantalize You can have it all day and will love it forever. Whether you're a die-hard or light e-smoker, Gen Vape is the best vape shop in UAE  with the best e-juice options that will fill the bill. You can choose from traditional and off-the-beaten-track flavors, nicotine strengths, PG/VG mixes, and everything in between are available to you. Write a review on Trust pilot.
Tokyo Freebase 3mg New flavors
Iced Cranberry Raspberry: Cranberry and raspberry are masterly combined with modest ice.
Iced Strawberry Lychee: A perfect combination of icy sweet strawberry and juicy lychee.
Iced Strawberry Kiwi: A perfect combination of iced strawberry and  New Zealand fresh kiwi fruit.
Iced Fruit Bomb: Several different fruits mix to produce a delicious taste.
Iced Strawberry Mango: This flavor is a blend of icy strawberry and ripe fresh tropical mango.
Iced Strawberry Watermelon: A perfect combination of iced strawberry and watermelon.
Iced Blueberry Watermelon: A perfect combination of blueberry and iced watermelon.
Tokyo Freebase 3mg All flavors
Ice Mango Peach:
Iced mango peach by Tokyo juice will refresh your senses.  It is a mixture of mango and juicy peaches,  crafted with high-quality ingredients providing you with a vaping experience filled with flavor while staying crisp and clean.
Ice Lemon: Fresh zesty lemons combined with icy mint and sweet fragrant honey together, will send your palate back to the very first time you waited in line for this cool delicious flavor.

Ice Grapefruit: Our Tokyo grapefruit is sweet and tangy, blended with nice juicy grape, which is very tasty and has no bitterness at all.
Ice Blueberry: newly coming in 2022, delivers a sweet and ripe blueberry flavor that you will enjoy it for your vape journey.
Iced Passion Fruit: Fresh passionfruit  juice, tender ice, and sweet honey together, when you vape it, you will fully enjoy the delicious taste
Ice Mint: A Refreshing Cool Mint Providing the perfect amount of Menthol for an irresistible all-day vape!
Iced Watermelon: Iced watermelon by Tokyo Ejuice,  a blast of watermelon,  tastes exactly like a ripe luscious watermelon, taken out from the icebox, freshly split into slices on hot summer days.
Iced Strawberry Yakult: Have you ever tried this flavor before?  The distinct sour sweet Yakult pairs perfectly with the strawberries.  Of course, it is with modest ice that will make you keep vaping it.
Iced Pina Colada: A legendary Pina Colada flavor,  minus the hangover. A tropical pineapple flavor begins on inhale, swiftly followed by a sweet combination of coconut and light cream, before being finished off by chilled ice.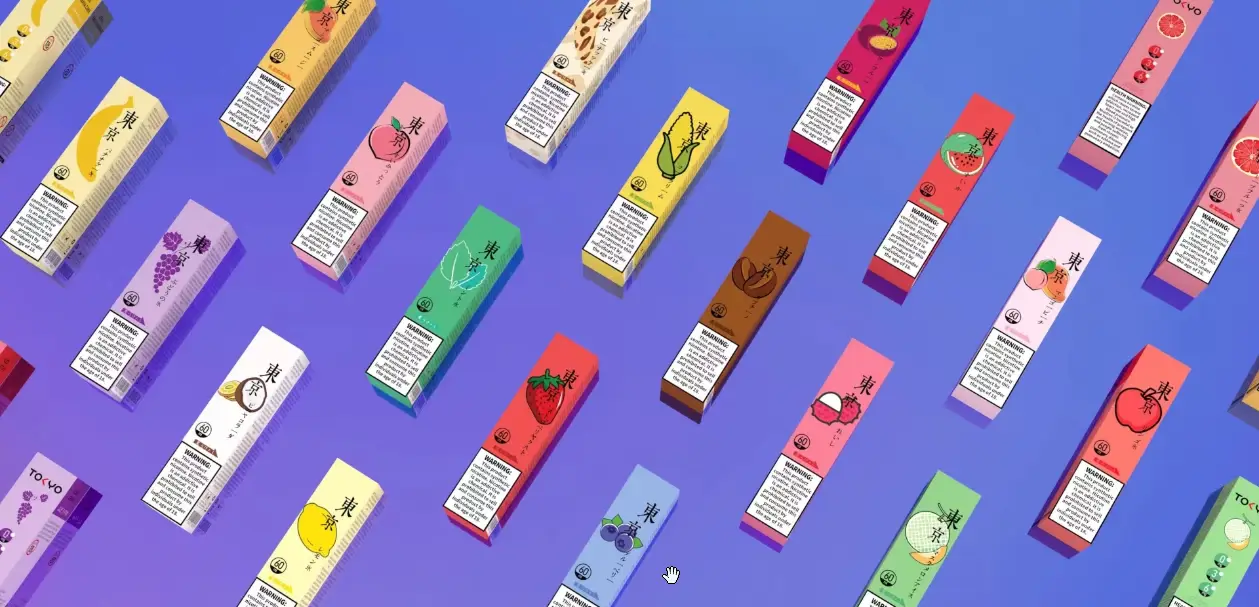 Iced Hami Melon: Iced Hami Melon by Tokyo juice will refresh your senses. With notes of sweetness and juices that almost taste honeydew-like, you get a stunning flavor that can be enjoyed all vape day.
Cappuccino: A hypnotic combination of various coffee beans infused with almond, caramel, and cinnamon. This unique coffee flavor is especially for cold or tough days. With it, you will cheer up.
Iced lychee: An icy blast of luscious lychees for the perfect sweet and full cold vape experience, just like you were in the Arctic zone on a hot summer day.
Iced Peach: Fresh honey peach explodes with all-natural flavor. Sweet and refreshing, with high-quality ingredients and a delightful taste.
Iced Grape: Experience the freshening blast of ice with a perfect tantalizing and real purple grape.
Iced Mango: Iced Mango by Tokyo ejuice is a perfect blend of fresh mangos with milk and ice. It's cold, sweet, fresh and perfect for summer. If you are a big fan of mangos, try it.
Ice Peach Melon: Fresh honey peach and hami melon mixed with ice, which generates a mouth-watering taste.
Iced Banana: Light and fluffy sponge cake filled with delicious banana custard cream from real fresh banana.
Ice Apple: A chilled refreshing iced red apple juice straight from the fridge on a hot summer day
Iced Peanut Banana Cake: A chilled refreshing iced red apple juice straight from the fridge on a hot summer day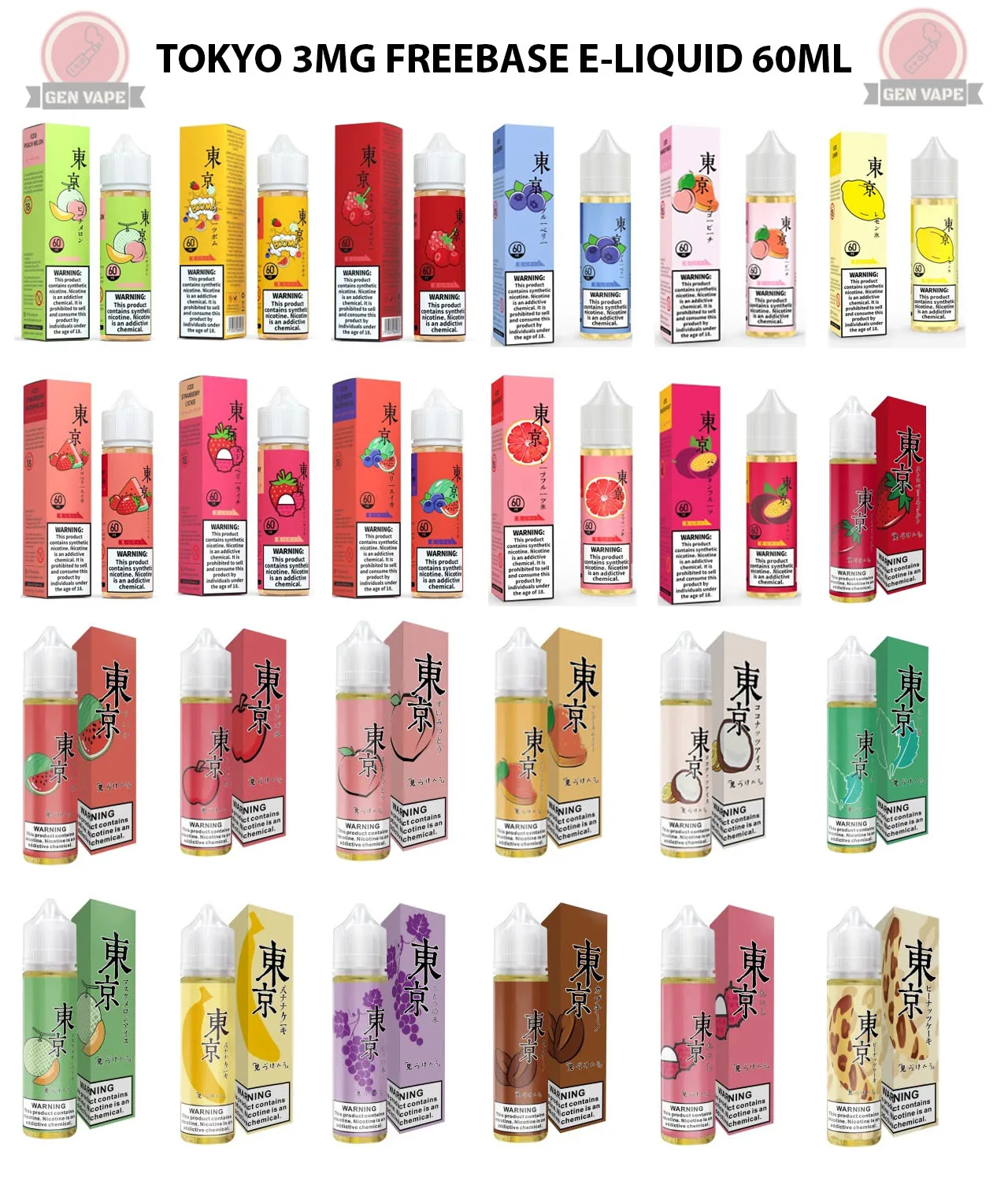 Advantages of E-liquids
They are available in every flavor from tobacco ones to fruity ones to mixed. You can find caffeine flavors to candy flavors everything is there to be displayed.
No such issues of having flavor color on your hands or fingers while using it or pouring it. They are free from any yellow-brown stains whereas cig just gives any smoker disgusting stains all over hands, face, etc.
No bad odor at all. E-liquids just have a very pleasant fragrance like fruit-scented perfume