US Vape 6500 XBAR Disposable Kit In Dubai
US Vape 6500 XBAR Disposable Kit In Dubai is finally here at genvapedubai.com, with a massive 6500 puff count! Each US Vape 6500 XBAR 6500 Puffs Disposable is pre-filled with a 16ml e-liquid capacity with 5% and 2% Nicotine strength for a long-lasting, all-week vaping experience. The sleek, modern stainless steel body and checkered print feel comfortable in the hand and stylish when in use.
This is one of the most awaited disposable pods in recent times in UAE and other countries also. Because after the announcement of the US Vape 6500 XBAR, it created some craze among the disposable vape
There is 5% (50mg) and 2% (20mg) of salt nicotine also to give you strong vaping feelings in every puff.
US Vape 6500 XBAR Disposable Kit In Dubai Specifications:
Nicotine: 5%,2%
Puffs: Up To 6500
Juice Capacity: 16 ml E-Liquid
Battery Capacity: 650 mAh ( Rechargeable with type-C)
Flavors: 11 Types.
The devices are rechargeable. You can recharge it with a Type-C USB cable. All the devices are nicely coated, all are very elegant. Also, there is mesh coil heating technology, which will produce enough heat to create best flavor, taste and strength to satisfy your taste buds and to create a dance cloud in every vaping period. US Vape 6500 XBAR Puffs Disposable Pods are buttonless. You can active it by draw-inhale. After using many days when will finish its 6500 puffs long life cycle, then you should throw it away.
US Vape 6500 XBAR Disposable Kit In Dubai Flavour:
Blueberry Ice: Incredible real Blueberry taste with small menthol touch
Cool Mint: Cool mint With menthol made this flavor more tasteful
Double apple: Mix of red and green Apple taste made this flavors awesome,
Energy Drink: Felling of real Energy drink with icy touch,
Grape strawberry:The Grape Strawberry flavour is a blast of fresh rich warmth that is comforting and refreshing.
Passion fruit: A sour, juicy, aromatic, exotic joy. A magnificent crunch, seeded with wonders.  Sweet tropical heaven, deliciously irresistible. Live with passion!
Peach Mango: a mixed fruit blend, capturing sweet delicate notes of peach paired with tropical mango.
Sakura Grape: The flavors of Japanese grape combined into one flavorful disposable.
Strawberry Mango: A fresh burst of mango paired with ripe strawberry.
Strawberry Watermelon: Succulent ripe Strawberry with Watermelon slice with little menthol soft touch, incredible taste
Watermelon Ice: Great combination of Watermelon slice with menthol, therefore this flavors is very famous.
US Vape 6500 XBAR Disposable Kit In Dubai Flavour: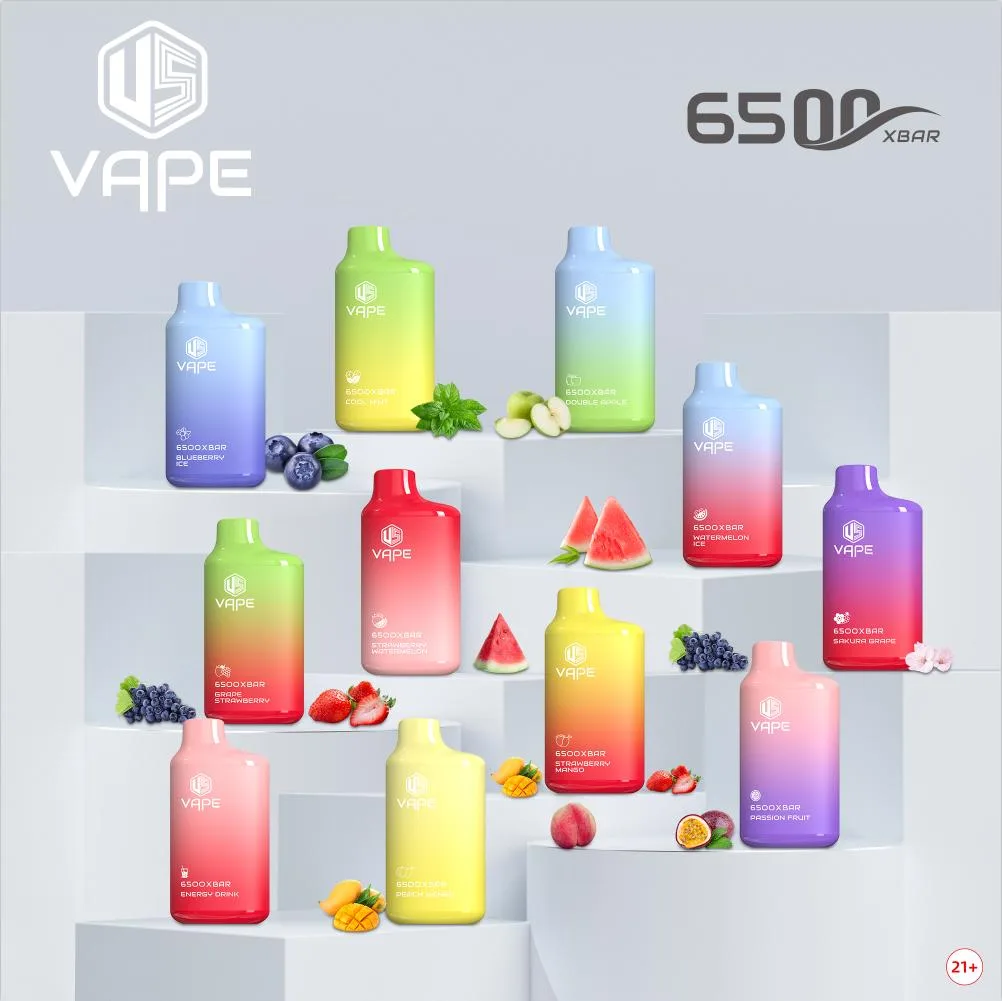 Delivery charge: AED 30 in the UAE for orders less than AED 300 and free delivery for other orders.
Same-day delivery in Dubai, Sharjah, and Ajman for orders before 7 pm and next-day delivery for other orders For More About delivery Information Click here.