ELFBAR Pi9000 DISPOSABLE VAPE 9000 PUFFS 5%
Introducing the game-changing ELFBAR Pi9000 DISPOSABLE VAPE 9000 PUFFS at Gen Vape Dubai. – the ultimate disposable for vaping enthusiasts in UAE! With its higher battery capacity and type C rechargeable technology, this sleek and stylish pod delivers a vaping experience like no other. But that's not all – it also comes packed with the mouth-watering fruity flavors you've come to know and love from ELF BAR, all in one unique bubbly shape.
Perfect for beginners and seasoned vapers alike, the Elf Bar Pi 9000 offers a zero learning curve and easy-to-use features like the liquid and battery indicators on the front. With a nicotine strength of 5%, every puff is guaranteed to be satisfying and satisfyingly smooth.
Specification :
Puffs : 9000 Puffs
Volume : 18ML Flavour
Charging : Rechargeable with Type C
Nicotine Strength : 5%
Coil : Mesh Coil
Charging Time : Roughly 15 min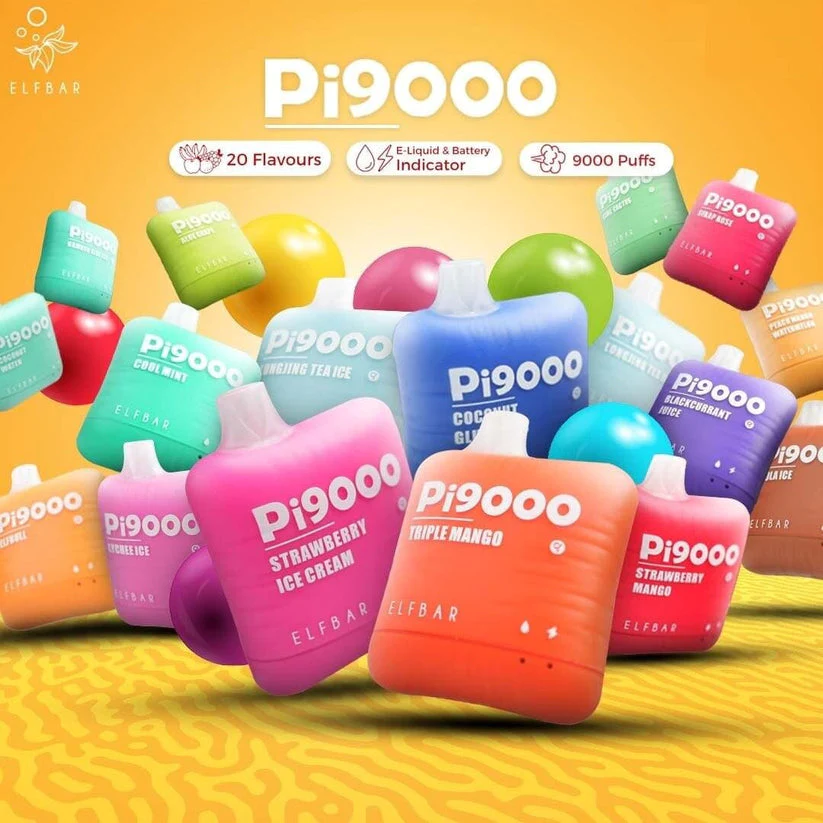 If you're new to the ELF BAR family, we recommend trying out our lower puff count versions like the elf bar 5000puffs or 6000puffs first to get a taste of our exceptional flavors. But if you're ready for the ultimate vaping experience, grab your Elf Bar Pi 9000 today and elevate your vaping game to the next level!
Flavours of 9000 puffs:
ALOE GRAPE
Flavourful and perfectly fun grape flavour with a slippery aloe vera in the background to add more juiciness and freshness in the background. Aloe vera and Grape make a super combination of flavours.
SIRAP ROSE
Get the delicate and flower quality of rosewater with a sweetish syrupy background. Makes you feel like vaping roses. A totally unique experience if you have not tried it before.
BLACKCURRANT JUICE
juicy ripe zingy blackcurrants – a taste that is easy to like, simple to vape and delightful to the senses.
STRAWBERRY MANGO
An aromatic combination of ripe mangoes and strawberries to tantalise your tastebuds, this is a top seller from Elf Bar since day one.
TRIPLE MANGO
Not single, not double but a triple shot of mango. Giving you a sweetish and aromatic top note of mango, a solid middle body of yellow mango and a deep richness of a secret mango.
LYCHEE ICE
The amazing thirst quenching characteristic of lychee will bring a smile to your face. Crystal clear sweet and tropical tasting lychee will have you relaxed and satisfied in just a couple of deep puffs.
JUICY PEACH
Brilliant sweet georgia peaches for a fruity delight with a cooling finish.
COCONUT WATER
The taste of coconut water sold on the side of the street in Bangkok. Wow, uncanny resemblance. 
ELF DREAM
A strawberry based flavour with big spoonfuls of sweet cream added to the mix, with a light cooling exhale.
LIME CACTUS
A delicious lime infused lemonade with juicy cactus for a surprisingly fresh feel.
PEACH MANGO WATERMELON
Experience a tantalizing tropical trifecta with our Peach Mango Watermelon vape juice! Juicy peach, sweet mango, and refreshing watermelon combine in perfect harmony to create a fruity explosion in your mouth. This is a flavor that will leave you feeling refreshed and satisfied with every puff.
ELF BULL
Get ready to be energized with our Elf Bull vape juice! This flavor is inspired by the famous energy drink and packs a punch of fruity and sweet flavors with a subtle touch of mint. It's perfect for those looking for a burst of energy and a sweet treat all in one.
LYCHEE TEA
Indulge in the sweet and fragrant flavor of our Lychee Tea vape juice! This exquisite blend features the delicate taste of lychee fruit combined with the light, refreshing taste of tea. It's the perfect flavor to relax and unwind with after a long day.
STRAWBERRY ICE-CREAM
Satisfy your sweet tooth with our Strawberry Ice-Cream vape juice! This creamy and delicious flavor features the taste of ripe strawberries blended with smooth and creamy ice cream. Every puff is like a spoonful of pure joy.
COLA ICE
Get your soda fix with our Cola Ice vape juice! This flavor is a classic and beloved by many. With the perfect balance of sweet and fizzy cola flavors, finished with a cool and refreshing blast of menthol, it's the perfect pick-me-up for any time of day.
YAKULT ICE
Indulge in a unique and exotic flavor experience with our Yakult Ice vape juice! Inspired by the popular Japanese probiotic drink, this flavor combines the tart and tangy taste of Yakult with a refreshing hint of ice. It's a flavor that's both delicious and healthy, making it the perfect all-day vape.