IWIK MAX 2500 PUFFS 20MG DISPOSABLE VAPE
Buy IWIK MAX 2500 PUFFS 20MG DISPOSABLE VAPE at Gen Vape Dubai. It has Mesh Technology with about 2500 Puffs and a 950mAh Integrated Battery, 20mg/ml Vape Pen and 6.5ml of Liquid capacity. IWIK was designed through technological innovation processes that allow the device to experience a more intense fragrance sensation. This allows you to explore a world of fragrances designed specifically for your palate. The mesh coil in the IWIK Disposable vape allows a rapid cooling after each use and gives the device greater reactivity to the shot producing dense and full-bodied steam.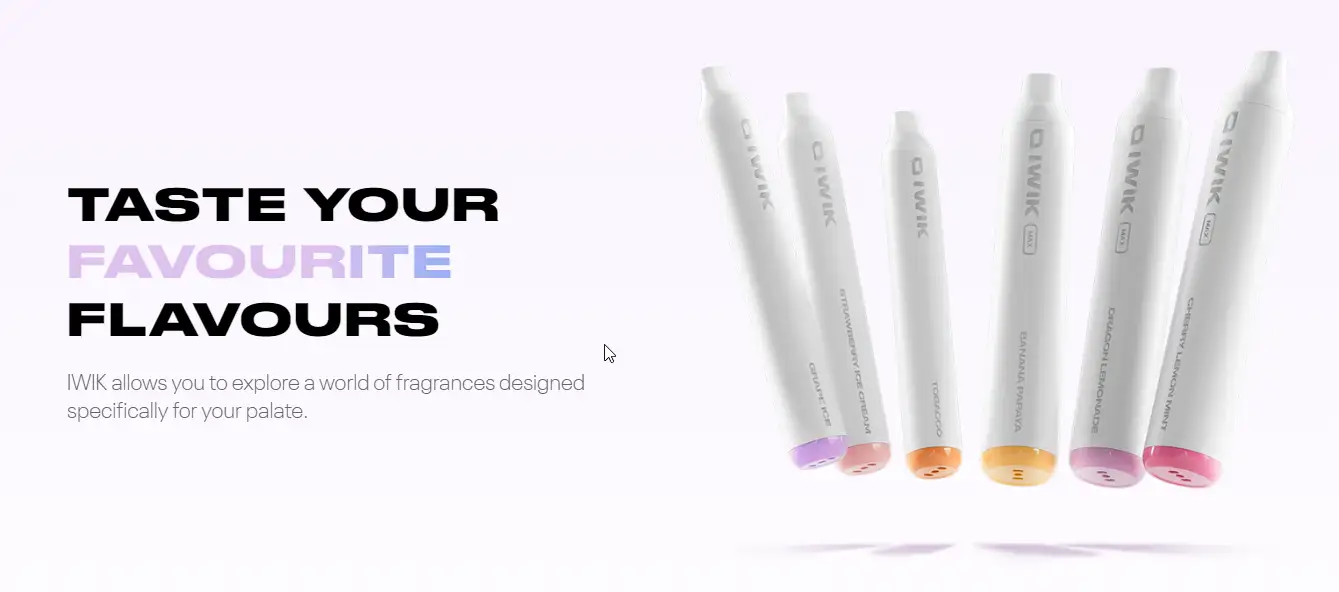 FIND IWIK
AT GENVAPEDUBAI.COM STORE
IWIK GO Disposable Vape Features
Number of Puffs: up to 2500 puffs
Nicotine Type: Nicotine Salt
Nicotine Strength: 20mg
Coil Type: Mesh coil
Liquid Capacity: 6,5ml
Battery Capacity: 950mAh
IWIK GO DISPOSABLE FLAVORS IN UAE
IWIK MAX Pina Colada – TASTE: COCKTAIL RHUM PINEAPPLE AND COCONUT.
IWIK MAX Peach Ice – TASTE:  ICE PEACH
IWIK MAX Pink Lemonade – TASTE: RED FRUIT LEMONADE.
IWIK MAX Fuji Melon – TASTE: SUGAR MELON.
IWIK MAX Banana Papaya – TASTE: BANANA AND PAPAYA.
Furthermore, We are a retail Vape shop in International City, Dubai, UAE. We deliver all over the UAE. Gen Vape Dubai is a retail outlet specializing in selling electronic cigarette products. Our best-selling products are disposable vape, Nicotine Pouches, pod systems, Juul, iqos, heets, Myle, e-liquid, yuoto disposable, pod salt disposable, Nexus, Elf Bar, vgod, vape coil, vape device, etc write us a review on Trust Pilot.