OXVA XLIM SQ PRO POD KIT: X-TREME FLAVOR
Shop the new OXVA XLIM SQ PRO POD KIT In Dubai at Gen Vape Dubai. A device that offers a 1200mAh built-in battery, a clear 0.96″ display, and utilizes XLIM V3 Top Fill Cartridges for enhancing the pure flavor experience. Crafted with a blend of metal and durable ABS materials, the XLIM SQ Pro offers a solid build and a satisfying weight, ensuring a robust chassis. With a power output ranging from 5 to 30 watts, this device is compatible with XLIM Top Fill Cartridges, allowing you to fill up to 2ml of your preferred E-Juice or nicotine salts. Featuring a 0.96″ TFT Display, the XLIM SQ Pro enables seamless switching between adjustable wattage and an intelligent SMART mode. The SMART mode automatically adjusts the output to perfectly match the installed pod by detecting the optimal wattage for the integrated coil's 0.6ohm or 0.8ohm resistance.
PRO XLIM SQ ENTERS GENERATION
Moreover, The Oxva Xlim SQ Pro pod kit features 5 watts – 30 watts of power with its new exterior design, more power, and larger battery. A 0.96-inch color screen and a variety of options for pod (XLIM V2, Top Fill, and Pre-fill Cartridge) enhance your X-treme vaping experience with vibrant visuals.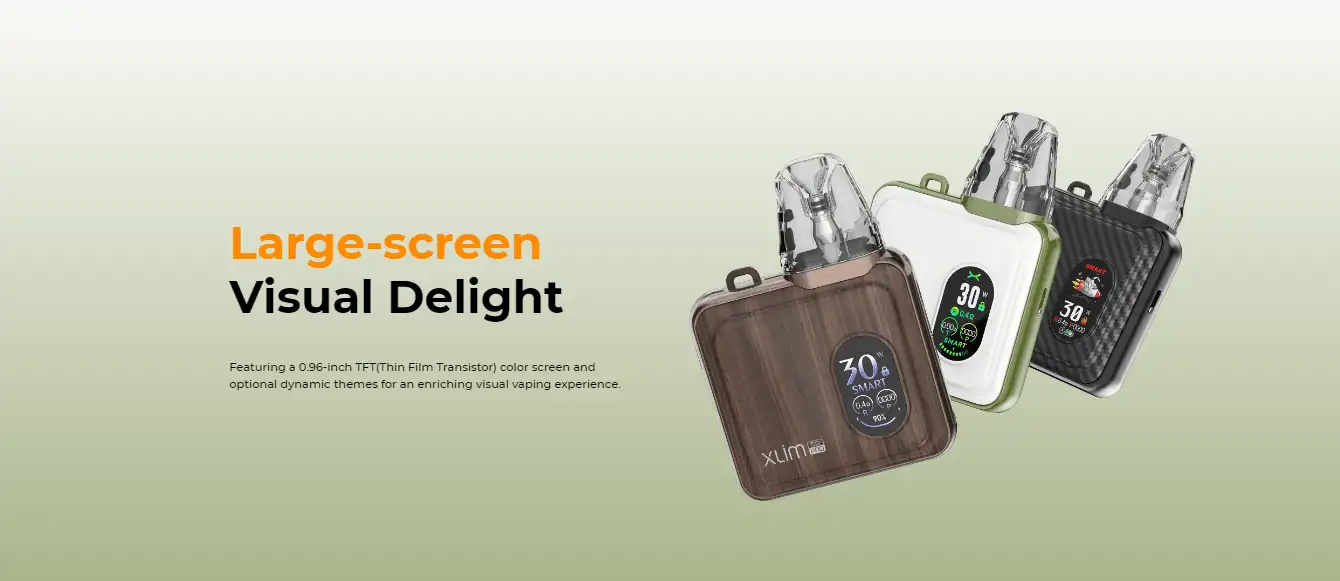 OXVA XLIM SQ PRO 30W POD SYSTEM FEATURES:
 Size: 54.4*20.4*77.0mm
 Battery Capacity: 1200mAh
 Charging: 5V/2A, Type-C
 Wattage Range: 5-30W
 Voltage Range: 3.2-4.2V
 Chassis Material: Zinc-Alloy + PCTG
 Display Screen: 0.96-inch TFT Color Screen
 Operation: Dual-Firing | Draw or Button
 Output: Variable Wattage or SMART Mode
 Charging: USB Type-C
 Pod Connection: Magnetic
 Pod Capacity: 2mL
 Pod Material: PCTG
 Fill System: Top-Fill
 Airflow Control: Side Switch AFC
Weight: 88g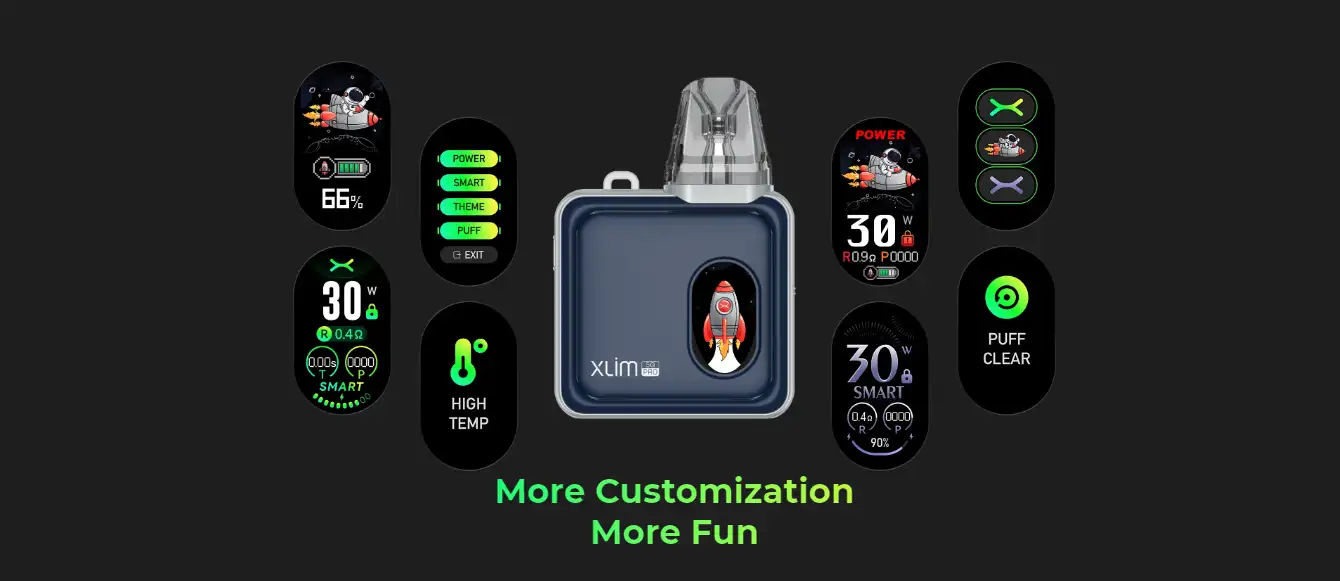 What's OXVA XLIM SQ PRO Mode?
OXVA XLIM SQ PRO Smart mode: precisely and automatically matches the optimal power.
OXVA XLIM SQ PRO Power mode: allows you to manually adjust the power to your desired strength.
With these two modes catering to different preferences, the choice is yours.
To Know Click Here To Watch OXVA XLIM SQ PRO Video.
How to Switch Oxva Xlim SQ Pro Modes?
Press the button twice within 1.5 seconds to enter the secondary interface. Press the button once to select different modes, and long-press the button to confirm the selected mode.
The enhanced 1200mAh battery ensures longer vaping sessions and lasting performance without frequent recharging.
OXVA XLIM SQ PRO KIT INCLUDES:
 1 XLIM SQ Pro Device
 2 XLIM Top Fill Pods
 1 Lanyard
 1 Type-C Cable
 1 User Manual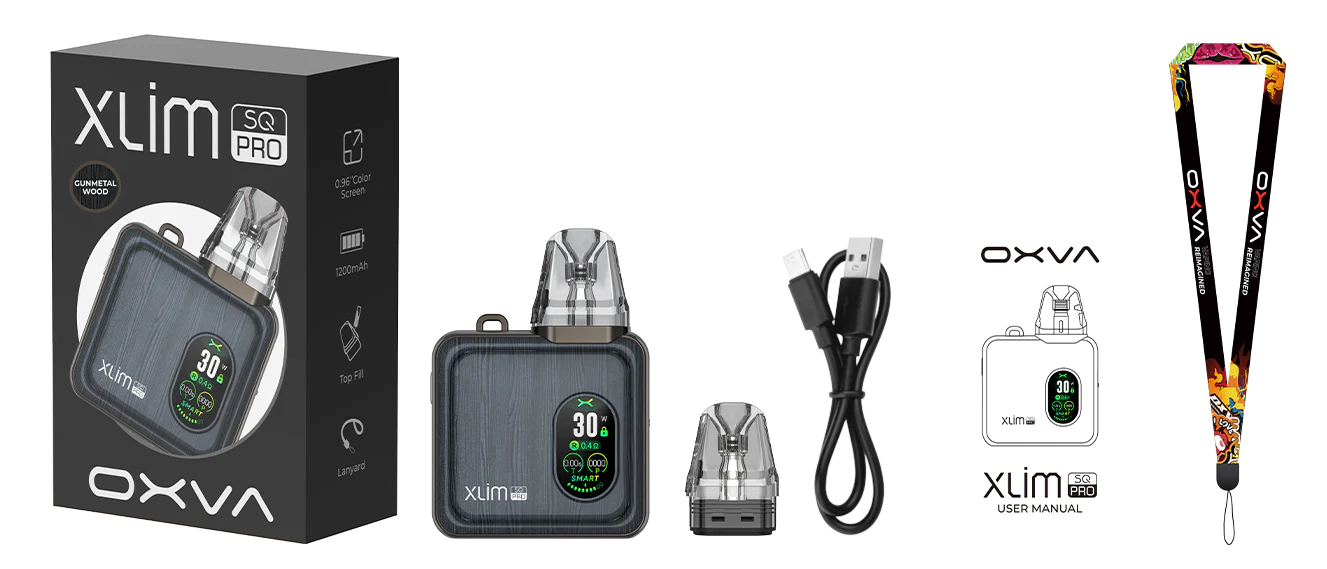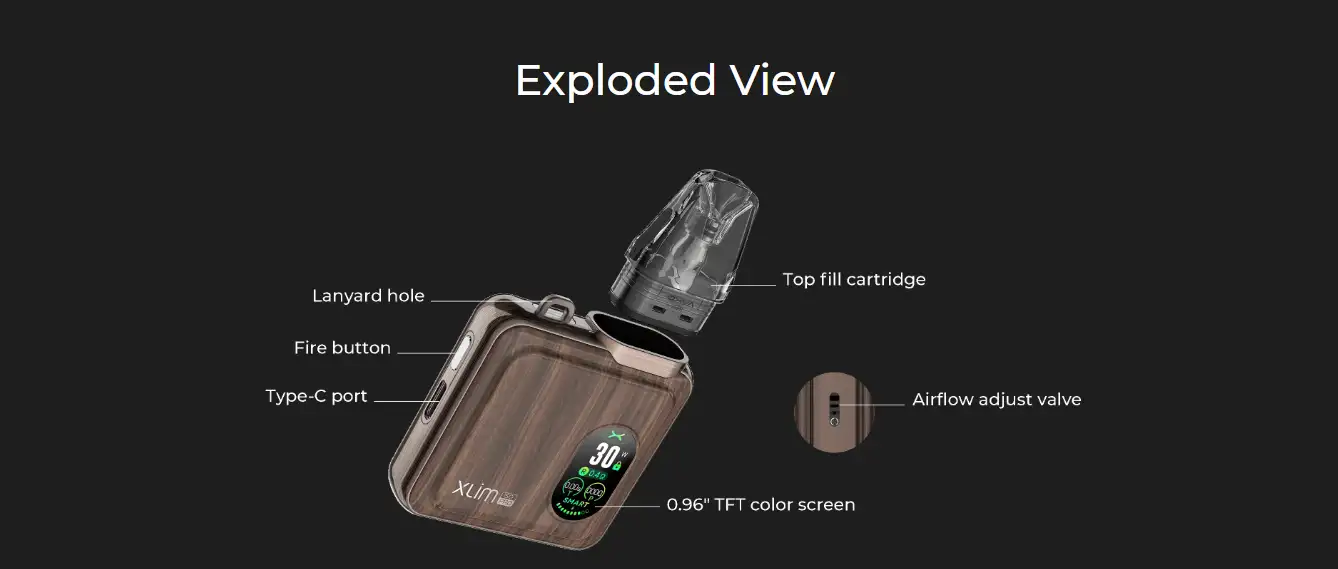 All XLIM Pods Compatible
Perfectly compatible with all XLIM Series Cartridges, including XLIM V2, V3 Top Fill Cartridges.