VELO RUBY BERRY SLIM 6MG IN DUBAI & UAE
Velo Ruby Berry Taste " offers the taste of red berries along with acidity and comes in regular strength. Born in Sweden"
Discover VELO RUBY BERRY SLIM 6MG At Gen Vape Dubai, we proudly present VELO RUBY BERRY Slim Format, the ultimate choice for those in pursuit of a powerful and icy sensation. This regular nicotine is a perfect choice for the beginner! who want to quit smoking. 2dots 6mg nicotine content and delivers an intense Strawberry and berry flavor finish. It's the perfect option for fruit lovers who looking for Nicotine Pouches in UAE!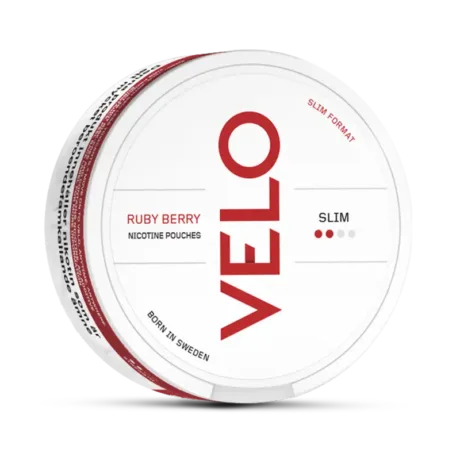 VELO Ruby Berry is the new LYFT Ruby Berry
Everyone knows the world-famous LYFT Ruby Berry, but that is now history! VELO Ruby Berry is the new name. Your favorite strawberry blossom is back – with a new name.
BEST BUY VELO SNUS IN UAE
Specifications:
Brand: VELO Nicotine Pouches
Type: Snus
Format: Slim
Taste: Strawberry
Nicotine level: 6mg/g
Portions/can: 20pcs
Content: 14g
Strength: Regular
Origin: Sweden
Manufacturer: British American Tobacco Ltd