PYNE POD BOOST 8500 PUFFS 5% DISPOSABLE VAPE
Buy New PYNE POD 8500 Puffs Disposable at Gen Vape Dubai. This Pyne Pod 8500 is a smart and powerful vaping device that offers an exceptional vaping experience. With its boost mode, it delivers rich flavors and impressive cloud production. The device features an attractive design with a colorful display, allowing you to easily monitor the liquid and battery levels. It also boasts a quick 30-minute charging port for convenience. This pyne pod has a 550mAh battery with a type-c USB port.
Bes buy PYNE POD BOOST 8500 PUFFS 5% DISPOSABLE VAPE in UAE.
Pyne Pod 8500 Disposable Vape Feature:
 Boost mode for a more flavorful experience and larger vapor production.
 Eye-catching design with a vibrant Colorful Display that indicates Liquid and Battery levels.
 Rapid 30-minute charging port.
 Provides 6000 to 8500 puffs per device, depending on the Wattage level.
 Equipped with a 550mAh Integrated Battery.
 Contains 50MG (5.0%) Nicotine by Volume.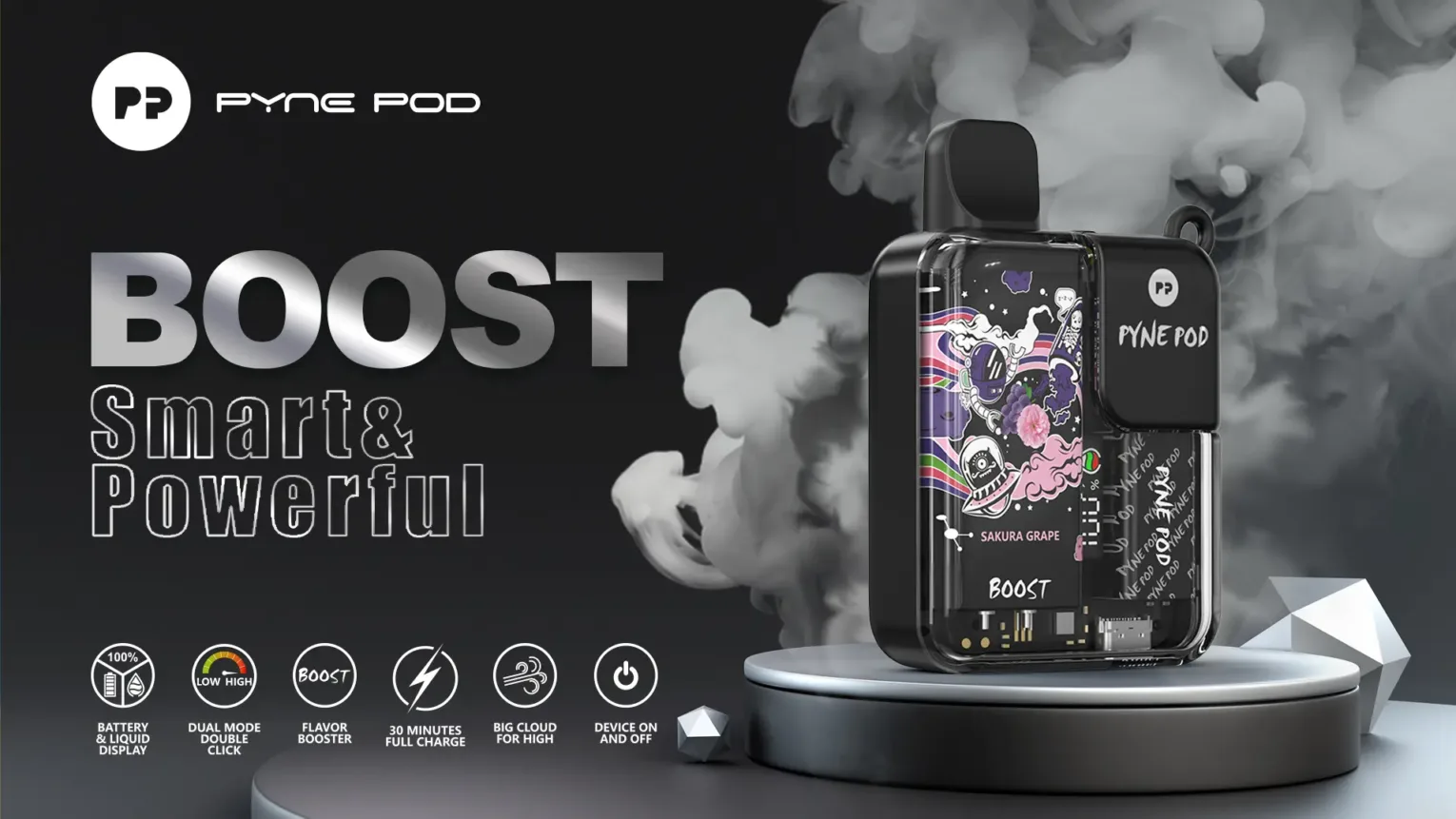 Pyne Pod disposable vape Button Functions (Please note):
Single click button to display device status (Voltage level, Battery & Liquid volume).
Double click to confirm Voltage switch: Green light for low wattage, Red light for high wattage.
Press and hold the button for 3 seconds to power the device ON or OFF.
Pyne Pod 8500 Disposable Vape Package Contents:
1 X Pyne Pod 8500 Disposable Vape In Pack
PYNE POD BOOST 8500 PUFFS 5% Specifications:
Salt Nicotine: 5%
Battery: 550mAh
Draw-Activated Firing Mechanism
Type-C USB Port
Input Voltage:3.7V
Power Range:
Low-watt model up to 8500 Puffs
High watt Model up to 6000 Puffs
Port: Type C Rechargeable
Device: On and Off
Dual Mode: Double Click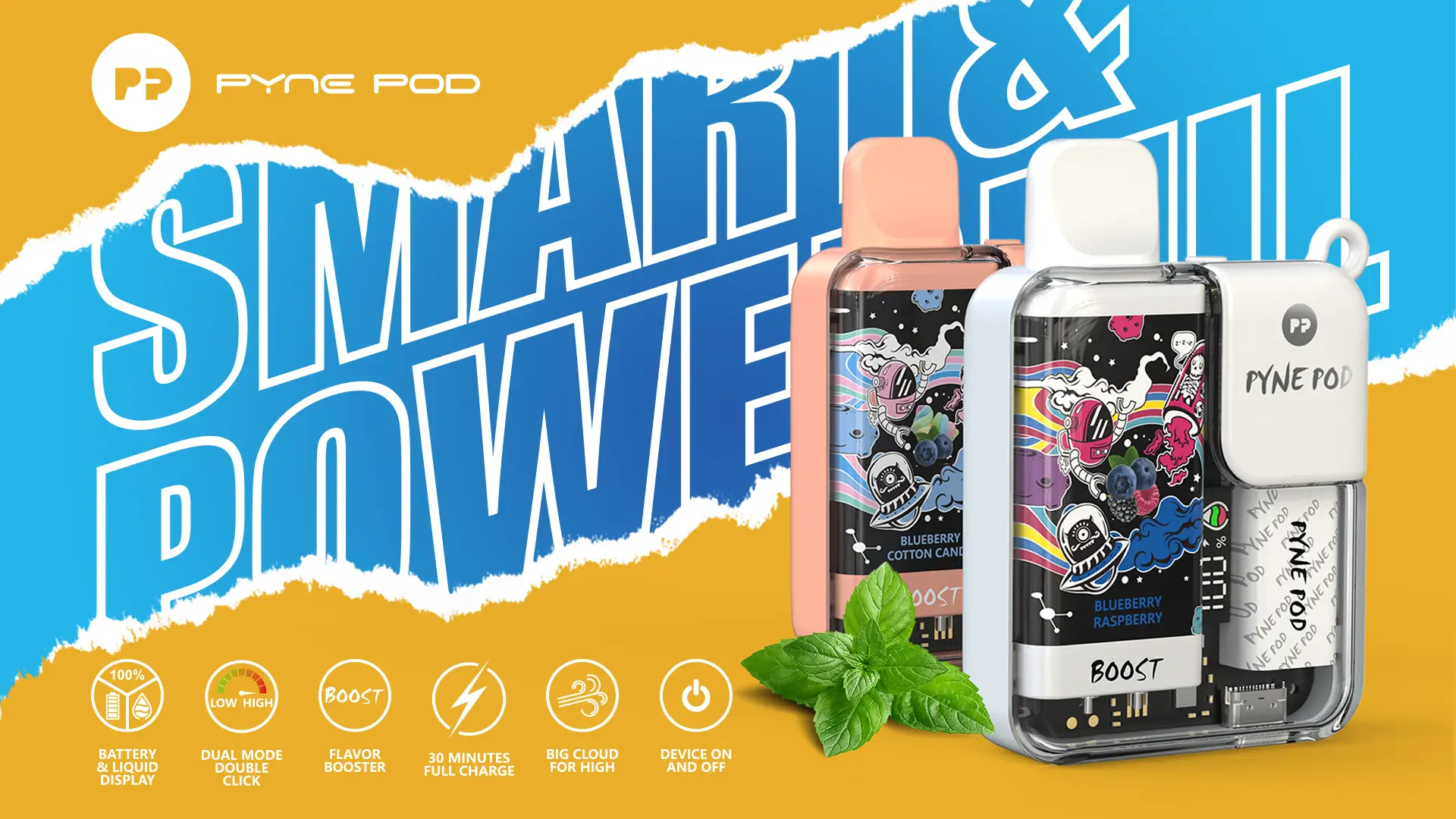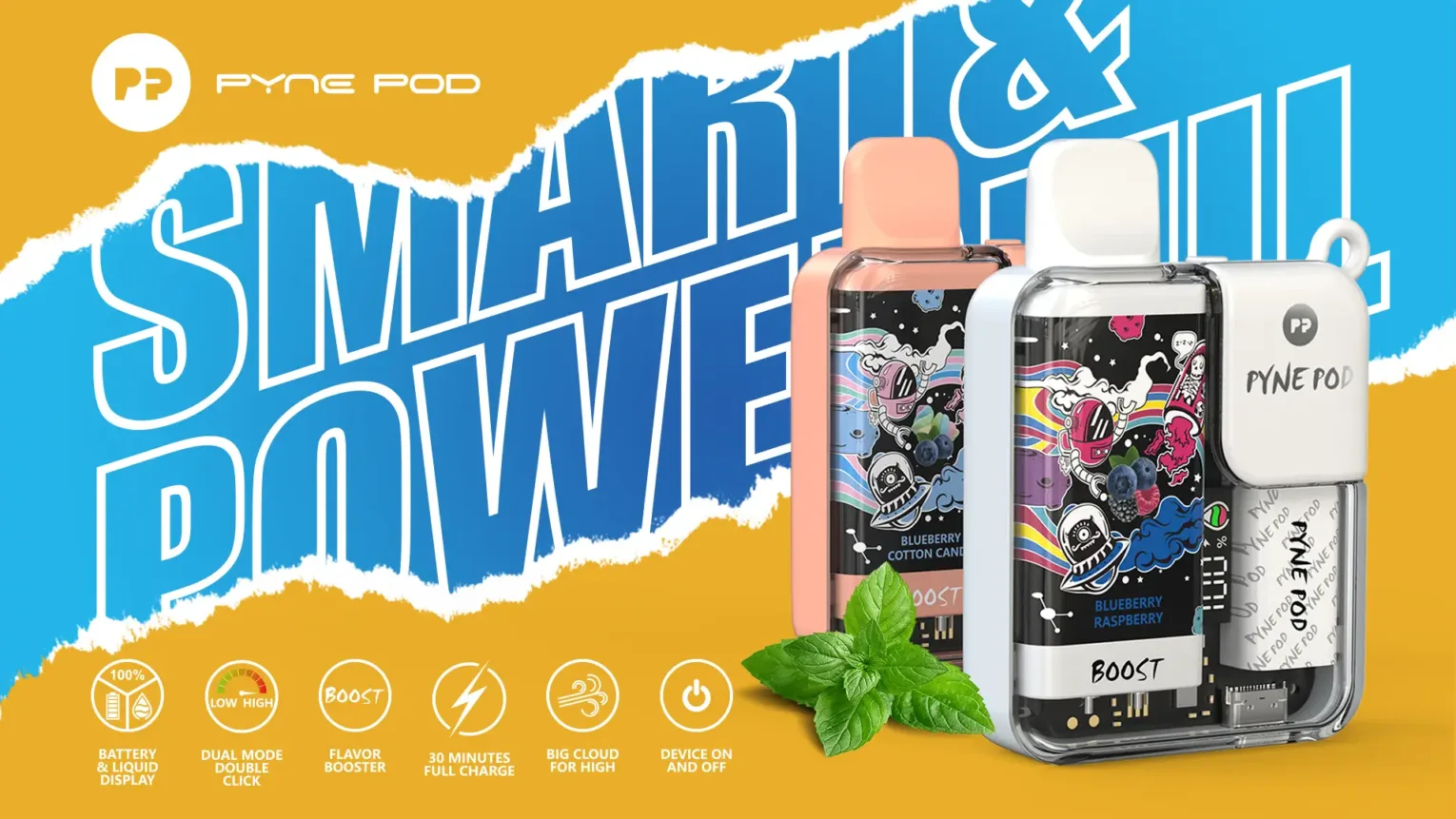 PYNE POD BOOST 8500 PUFFS DISPOSABLE VAPE Flavors:
Bubblegum Raspberry
Fizzy Cherry
Blueberry Cotton Candy
Watermelon Bubblegum
Mango Passionfruit
Sakura Grape
Cantaloupe Apple
Kiwi Passionfruit Guava
Strawberry Watermelon
Lemon Lime
Colombian Coffee
Cool Mint
Order PYNE POD BOOST – Rechargeable Disposable Vape (8500 Puffs) vape online in Dubai from Gen Vape UAE with Same Day Vape Delivery to Dubai, Abudhabi, and Next Day vape Delivery to Sharjah, Ajman, Ras Al Khaimah, Al Ain & Ruwais. with best vape price in Dubai.
Furthermore, We are a retail Vape shop in International City, Dubai, UAE. We deliver all over the UAE. Gen Vape Dubai is a retail outlet specializing in selling electronic cigarette products. Our best-selling products are disposable vape, pod system, Juul, iqos, heets, Myle, e-liquid, yuoto disposable, pod salt disposable, Nexus, Elf Bar, vgod, vape coil, vape device, etc.