VELO ELAICHI BLAST STRONG SLIM FORMAT 10MG
Taste "A burst of fresh Elaichi Blast feel, Freshness at the moment!"
Experience VELO ELAICHI BLAST STRONG 10MG At Gen Vape Dubai, we invite you to savor the exquisite blend of flavors in our all-new and limited edition VELO EASTERN MIX. This unique ethnic mix is designed to provide a burst of freshness and the full blast of elaichi, offering an unforgettable experience for your taste buds.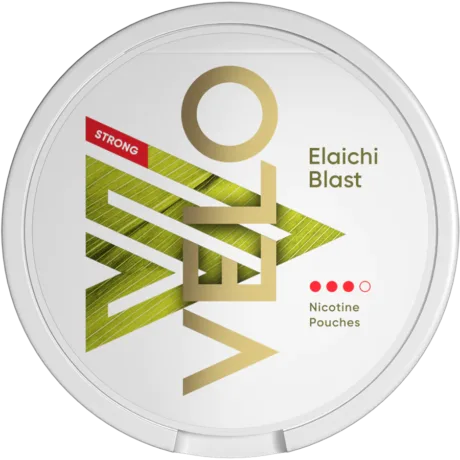 Although, It's a-white snus from Velo and the manufacturer BAT designed to take your experience to the strong strength! Its tobacco-free and slim nicotine pouches deliver strong nicotine kicks (10 mg/portion). This flavor Made in Pakistan under the authority of British American Tobacco.
Velo Elaichi Blast Specifications:
Brand: VELO, LYFT
Product Type: Nicopod
Format: Slim
Flavour: Elaichi
Strength: Strong
Nicotine: 10mg
Pouches Per Can:20
Weight Per Pouch (Gram):0,75
Content Per Can (Gram):15
How to Enjoy VELO ELAICHI BLAST
Open the VELO ELAICHI BLAST bottle and fill your tank or pod system.
Adjust your device settings to your preferred wattage or airflow.
Take a slow and steady puff to savor the burst of freshness and elaichi flavor.
Exhale and appreciate the delightful aftertaste.