VELO POLAR MINT MAX SLIM 14MG
Tobacco-free, all-white, and discreet nicotine pouches from Velo with ultra-strong kicks and a fresh mint flavor!
Buy Velo Polar Mint Max Slim at Gen Vape Dubai. It's an all-white snus that maximizes your experience! These tobacco free and slim nicotine pouches from BAT. This deliver ultra-strong nicotine kicks (14 mg/portion) together with a refreshing mint flavor that is complemented by sweet undertones.
Enjoy the full-bodied twist of spearmint and the subtle cooling freshness of menthol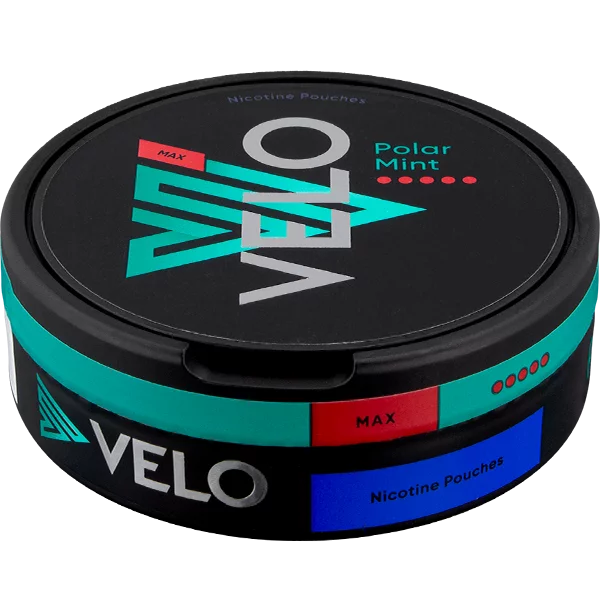 No alcohol, No animal derivatives!
VELO is a modern oral product made in Pakistan under the authority of British American Tobacco. It is white in colour and contains high purity nicotine, water and other high quality ingredients. It also includes eucalyptus and pine tree fibres, flavorings and sweeteners.
Best buy VELO POLAR MINT MAX SLIM 14MG in Dubai
The natural plant fiber filling used by its comfortable portions ensures that they won't stain and that they drip minimally. This low amount of drip lengthens their stimulating release of both mint and nicotine.You can now buy the powerful Velo Polar Mint Max Slim Nicotine Pouches within the UAE online right here at
genvapedubai.com!
Velo snus Specifications:
Brand: VELO, LYFT
Product Type: Nicopod
Format: Slim
Flavour: Mint
Strength: Max Strong
Nicotine: 14mg
Pouches Per Can:20
Weight Per Pouch (Gram):0,75
Content Per Can (Gram):15
Furthermore, We are a retail Vape shop in International City, Dubai, UAE. We deliver all over the UAE. Gen Vape Dubai is a retail outlet specializing in selling electronic cigarette products. Our best-selling products are disposable vape, pod system, Juul, iqos, heets, Myle, e-liquid, yuoto disposable, pod salt disposable, Nexus, Elf Bar, vgod, vape coil, vape device, etc.