VELO WATERMELON MINT STRONG SLIM FORMAT 10MG
Taste "Fusion of Juicy Watermelon and Peppermint. "
Discover VELO WATERMELON MINT STRONG 10MG at Gen Vape Dubai. combining juicy watermelon with peppermint for a mouth-watering flavor fusion. It's An all-white snus from Velo and the manufacturer BAT designed to take your experience to the strong strength! Its tobacco-free and slim nicotine pouches deliver strong nicotine kicks (10 mg/portion) together with a watermelon mint flavor topped with peppermint tones.
The result is a nicotine pouch that is not only satisfying, but also provides a burst of flavor with every hit. This flavor Made in Pakistan under the authority of British American Tobacco.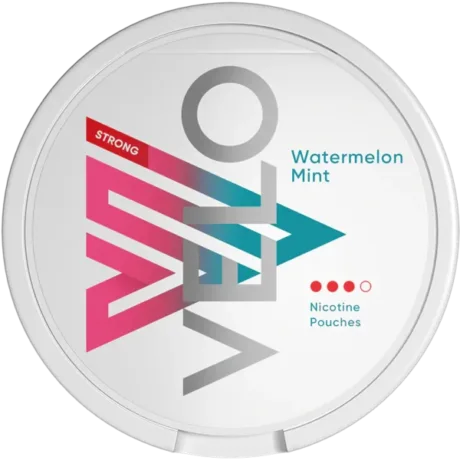 No Smoke, No Smell, No Tobacco*
Velo snus Specifications:
Brand: VELO, LYFT
Product Type: Nicopod
Format: Slim
Flavour: Watermelon & Mint
Strength: Strong
Nicotine: 10mg
Pouches Per Can:20
Weight Per Pouch (Gram):0,75
Content Per Can (Gram):15
How to Use Velo Watermelon Mint Snus?
Using Velo Snus is incredibly straightforward. Follow these steps to enjoy the discreet and long-lasting satisfaction it provides:
Simply place a Velo Watermelon Mint Snus pouch under your upper lip.
Allow the flavors to develop and the nicotine to release gradually.
Enjoy the discreet and long-lasting satisfaction without the need for smoke or vapor.
Furthermore, We are a retail Vape shop in International City, Dubai, UAE. We deliver all over the UAE. Gen Vape Dubai is a retail outlet specializing in selling electronic cigarette products. Our best-selling products are disposable vape, pod system, Juul, iqos, heets, Myle, e-liquid, yuoto disposable, pod salt disposable, Nexus, Elf Bar, vgod, vape coil, vape device, etc.