VGOD SALTNIC ICED BANANA BOMB 30ML (25 & 50 MG)
Buy The New VGOD SALTNIC ICED BANANA BOMB 30ML (25 & 50 MG) at Gen Vape Dubai. This is an Iced tasty Banana vaping experience and gives you the same world-class nicotine hit for all-day-long vaping with VG/PG: 50VG/50PG. It's a new addition to the VGOD SaltNic Banana Bomb series, Banana iced Bomb has have nic salt flavor in your drawers for tasting vaping at any time.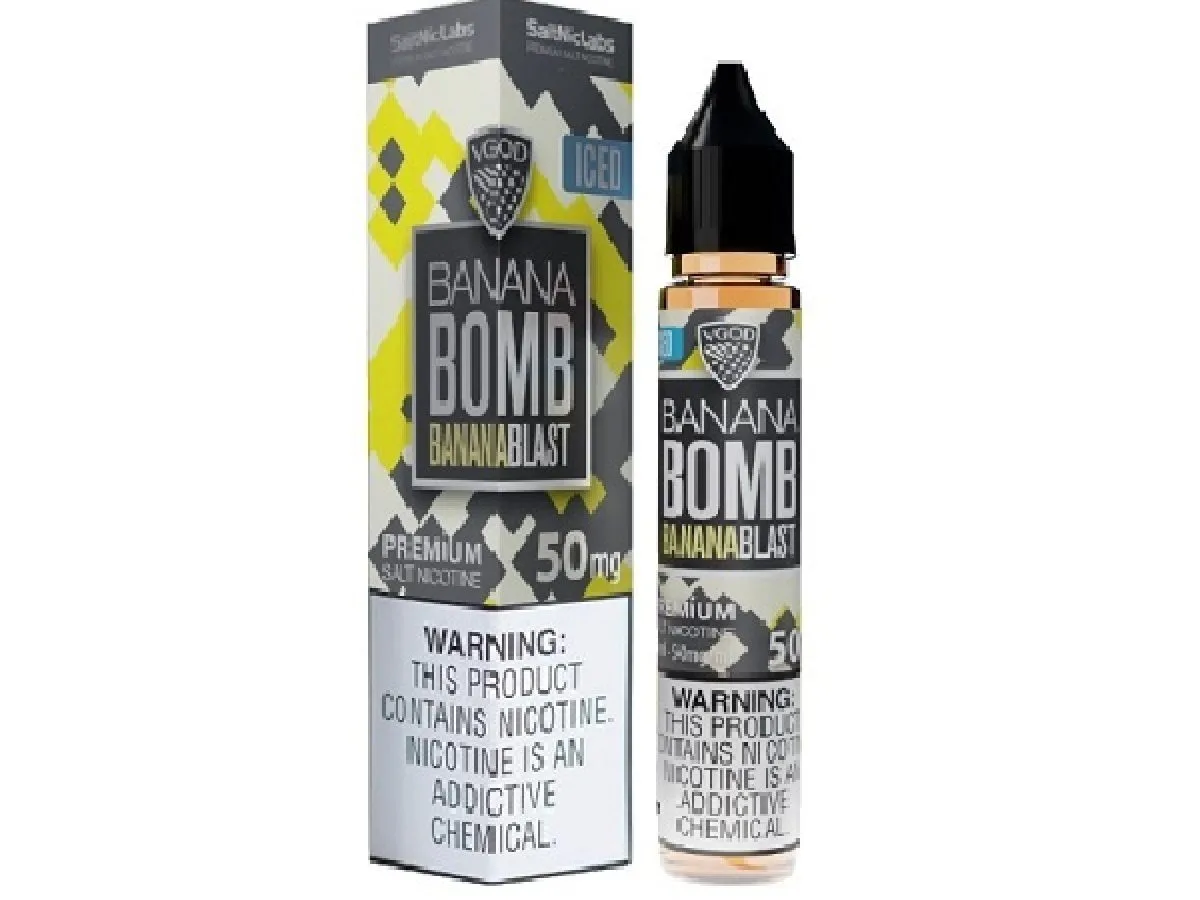 This is original liquids designed for refilling small and low-power POD systems. The juices are made based on salt nicotine and natural flavorings. The nicotine content varies from 25 to 50 mg. This will produce a nice, thick vapor and can be used to do simple tricks. The main distinctive feature is the rich, natural taste without any chemical additives and the memorable aftertaste. The formulations are designed for those who are just transitioning from regular cigarettes to vaping and for experienced vapers who are looking for a fun smoking experience.
VGOD Salt-Nic Vape Juice Feature:
Brand Name: VGOD E-liquid
Flavor: Iced Banana Bomb
VG/PG: 50VG/50PG
Nicotine Strength: 25mg, 50mg0
Cap: Child Resistant
Manufactured by USA
Crafted for UltraLow Wattage & Pod–Based System
Bottle Size: 30 ML
Incredible quality flavors
You can buy VGOD disposable and VGOD SaltNic in Dubai from our online shop genvapedubai.com. We offer original products from the brand, there are certificates of quality. If you have difficulty choosing or need advice on products – contact us. We can deliver your purchase to all regions of the UAE.
Furthermore, We are a retail Vape shop in International City, Dubai, UAE. We deliver all over the UAE. Gen Vape Dubai is a retail outlet specializing in selling electronic cigarette products. Our best-selling products are disposable vape, Nicotine Pouches, pod systems, Juul, iqos, heets, Myle, e-liquid, yuoto disposable, pod salt disposable, Nexus, Elf Bar, vgod, vape coil, vape device, etc write us a review on Trust Pilot.