Here's The New IQOS Lil Solid Ez Review It's a compact and portable device that offers an alternative for adult smokers who are looking for potentially reduced-risk alternatives to traditional smoking. It uses a heating blade to heat the tobacco stick, which is inserted into the device. The heated tobacco stick releases a nicotine-containing vapor that the user inhales.
IQOS Lil Solid Ez – Simplifying Your Vaping Experience
It's important to note that while IQOS and other similar heated tobacco products are marketed as potentially reduced-risk alternatives to traditional smoking, they are not risk-free. They still contain nicotine, which is addictive, and the long-term health effects are still being studied.
Design and Portability:
The IQOS Lil Solid Ez is an elegant and slim design that easily fits into your pocket or bag. Its lightweight construction makes it a portable companion for your vaping needs. Whether you're on the go or enjoying a relaxing break, the compactness and ergonomic shape of the IQOS Lil Solid Ez make it a pleasure to hold and use.
To Buy The New IQOS Lil Solid Ez Click here
User-Friendly Operation:
One of the standout features of the new IQOS Lil Solid Ez is its user-friendly operation. Gone are the complexities of buttons or switches. Instead, this device employs a convenient draw-activated system, eliminating the need for any extra steps. Simply inhale, and the device will automatically heat the tobacco stick, providing you with a smooth and satisfying vaping experience. This intuitive approach makes the IQOS Lil Solid Ez a great choice for both experienced vapers and those new to heat-not-burn devices.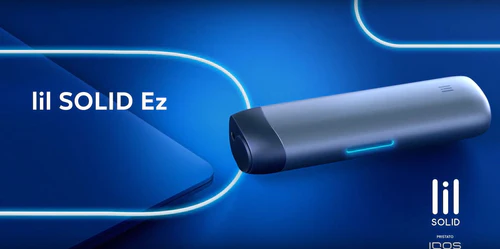 New IQOS Lil Solid Ez Review
New IQOS Lil Solid Ez Features:
Dimensions: 93.6 x 22.2 x 11.9 mm
Weight: 27 grams
Charging time: about 75 minutes
Battery capacity: 350mAh
Use time: designed for heating sessions ranging from about 20 seconds or 14 to 16 shots.
Heating time: about 20 seconds
Charging port: USB-C
New IQOS Lil Solid Ez model comes with different colors such as Black, White, Rose Gold, Mint, Blue 
IQOS LIL SOLID EZ Battery Life and Charging:
The IQOS Lil Solid Ez comes equipped with a reliable battery that offers a decent vaping session duration. Its battery life is sufficient for several uses before requiring a recharge. When it's time to recharge, the device offers quick charging capabilities, allowing you to spend less time waiting and more time enjoying your vape. This feature is particularly beneficial for individuals with busy schedules or those constantly on the move.
Flavor Experience of IQOS lil solid ez:
The IQOS Lil Solid Ez excels in delivering a rich and flavorful vaping experience. The device heats the specially designed tobacco sticks, unlocking their distinct flavors while reducing the presence of harmful chemicals. This innovative technology ensures that you can savor the essence of tobacco without the harshness associated with traditional smoking methods.
Availability and Pricing:
The IQOS Lil Solid Ez is available at genvapedubai.com with fast delivery option to all over UAE. The IQOS Lil Solid Ez is a user-friendly and portable heat-not-burn device that simplifies your vaping experience. Its elegant design, intuitive operation, and reliable battery life make it a compelling option for individuals seeking a convenient and flavorful alternative to traditional smoking. Whether you're a seasoned vaper or new to heat-not-burn technology, the IQOS Lil Solid Ez offers an accessible and satisfying option for your vaping needs.
Please note that it's always essential to be aware of and adhere to local regulations and guidelines regarding the use of vaping devices and tobacco products.
How to use The New IQOS Lil Solid Ez?
All you have to do is insert a tobacco stick into the device and turn it on. The device then heats up automatically, releasing the flavor and aroma of the tobacco without producing any combustion products.
Overall, the Lil SOLID EZ offers a convenient and quality way to enjoy tobacco sticks without worrying about cleaning up the ash and smoke. With its compact size and lightweight, it is also very portable and can be easily carried in your pocket or backpack.
The product contains no nicotine as there are no sticks included.