KILLA Frosted Mint Extra Strong 16mg in UAE
Taste " Extra strong slim nicotine pouch with the flavor of frosted mint, Which is extra fresh due to the Ice part "
Discover KILLA Frosted Mint Extra Strong 16mg at Gen Vape Dubai. These are the number one nicotine pouches on the market in the segment around 16 mg/g, by excellence these are some of the best-selling nicotine pouches we know and are sold in large numbers worldwide by genvapdubai.com. Everyone familiar with the use of nicopods knows Killa Frosted Mint.
Each box of KILLA Frosted Mint Nicotine Pouches contains 20 slim pouches, making them the epitome of convenience. Whether you're on the move or in a social setting, these discreet pouches are easy to carry and use. The slim design ensures they fit comfortably in your pocket or bag, allowing you to enjoy nicotine whenever and wherever you desire.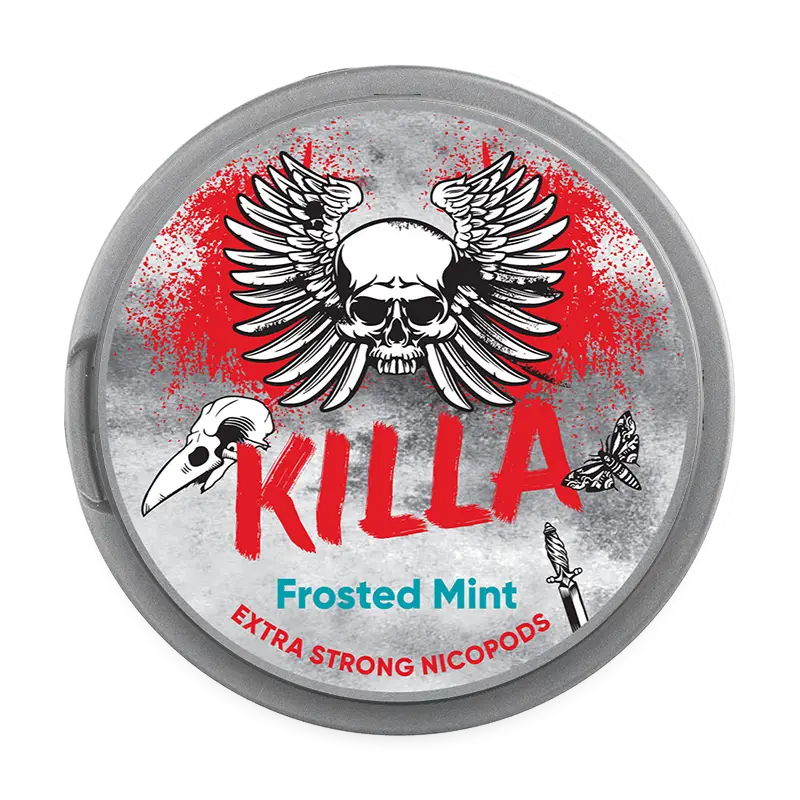 Brand: Killa Nicotine Pouches
Type:  Nicotine pouch
Format: Slim All White
Taste: Mint
Pouches/can: 20pcs
Nicotine level: 16mg/g
Content: 16g
Strength: Extra strong
Manufacturer: NGP Tobacco
Country Of Origin: Denmark
Elevate Your Nicotine Experience with KILLA Frosted Mint Nicotine Pouches
In the world of nicotine pouches UAE, KILLA Mint stands out as a true game-changer. If you're searching for an exhilarating and satisfying nicotine experience, look no further. These slim pouches are designed to provide a burst of minty freshness and a powerful nicotine kick, all without the need for tobacco. In this article, we delve deep into what makes KILLA Frosted Mint Nicotine Pouches the preferred choice for discerning users and why they are poised to dominate the market.
A Minty Revelation
KILLA Frosted Mint Nicotine Pouches bring a refreshing twist to the world of snus and nicotine pouches. What sets them apart is their unmistakable and invigorating mint flavor. The familiar taste of mint has garnered a strong following among snus enthusiasts, and KILLA Frosted Mint takes this to a whole new level.
The minty essence in these pouches isn't just about flavor; it also delivers an extra burn, which many snus connoisseurs crave. It's the perfect combination of taste and sensation that makes KILLA Frosted Mint a standout choice for those seeking an elevated nicotine experience.
The Power of Nicotine
What truly sets KILLA Frosted Mint Nicotine Pouches apart is their nicotine strength. With an impressive nicotine content of 16mg/g, these pouches pack a serious punch. If you're looking for a satisfying hit that leaves you feeling invigorated and refreshed, KILLA Frosted Mint delivers precisely that.
Although, this high nicotine strength ensures that each pouch provides a substantial nicotine release, catering to even the most seasoned nicotine users. Whether you're transitioning from traditional tobacco products or seeking an alternative that doesn't compromise on satisfaction, KILLA Frosted Mint is the perfect choice.
A Tobacco-Free Revolution
One of the most compelling aspects of KILLA Frosted Mint Nicotine Pouches is that they are entirely tobacco-free. This innovation means that you can enjoy the delicious taste and satisfying nicotine hit without exposing yourself to the harmful chemicals often associated with traditional tobacco products.
By opting for KILLA Frosted Mint, you're making a conscious choice for your health. You can savor the sensation of nicotine without the worry of tobacco-related risks. It's a decision that aligns with a healthier lifestyle while still indulging in the nicotine experience you crave.
For those looking to elevate their nicotine experience to new heights, KILLA Frosted Mint is the ultimate choice. Its distinctive flavor and intense nicotine hit provide a winning combination that's bound to leave you invigorated and refreshed.
Moreover, We are a retail Vape shop in International City, Dubai, UAE. We deliver all over the UAE. Gen Vape Dubai is a retail outlet specializing in selling electronic cigarette products. Our best-selling products are disposable vape, Nicotine Pouches, pod systems, Juul, iqos, heets, Myle, e-liquid, yuoto disposable, pod salt disposable, Nexus, Elf Bar, vgod, vape coil, vape device, etc write us a review on Trust Pilot.