VELO ICE COOL STRONG SLIM FORMAT 10MG
Taste " VELO Ice Cool Mint Slim Strong with a fresh taste of mint " Born In Sweden!
Buy VELO ICE COOL STRONG SLIM FORMAT 10MG at Gen Vape Dubai! Enjoy the taste of white nicotine portions that are free, from tobacco. These portions are crafted using fibers derived from eucalyptus and pine infused with an extracted nicotine extract sourced from tobacco. Embrace the invigorating power of VELO Ice Cool Strong as you savor its flavor. Like a day, in the majestic Alps, you'll be captivated by the refreshing essence of peppermint complemented by subtle hints of sweetness and herbal undertones.
99% Less Toxicants than a cigarettes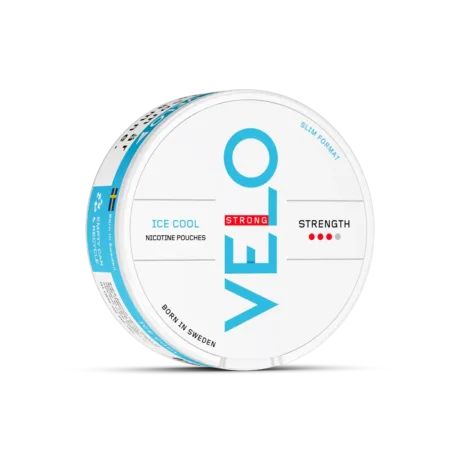 The VELO Ice Cool Experience: Refreshing Nicotine Pouches
Information VELO Ice Cool Mint Strong Slim Format
Brand: Nicotine Pouches
Type:  Nicotine pouch
Format: Slim
Taste: Mint
Nicotine level: 10mg/g
Content: 14g
Strength: Strong
Manufacturer: British American Tobacco Ltd
BEST BUY VELO ICE COOL IN UAE
In the world of smokeless alternatives, VELO Ice Cool stands as a testament to both innovation and satisfaction. This article will delve into the VELO Ice Cool experience, offering insights into its evolution from LYFT, its global popularity, how to enjoy it, and why it's the preferred choice for discerning enthusiasts.
LYFT Evolves into VELO
In the early months of 2022, LYFT, a well-known name in the world of nicotine pouches, underwent a transformation and rebranded itself as VELO. While the name on the cans changed, the core essence of the product remained untouched. This transition aims to offer a refreshed identity while maintaining the beloved taste and nicotine strength that users have come to expect.
VELO Ice Cool: A Global Bestseller
The transformation from LYFT to VELO did not go unnoticed, especially in countries like France, Netherlands, Spain, Germany, Belgium, Italy, and Qatar. VELO Ice Cool quickly ascended the ranks to become a global bestseller in the mint-flavored nicotine pouch family. Let's explore what makes it so popular.
The VELO Ice Cool Experience
Slim and Discreet Pouches
One of the key aspects that set VELO Ice Cool apart is the slim and discreet nature of its nicotine pouches. They are designed for maximum comfort and convenience, allowing users to enjoy their nicotine experience without drawing unnecessary attention.
Fresh Mint Flavor
VELO Ice Cool boasts a fresh, slightly sweet mint flavor that tantalizes the taste buds. It provides a crisp and invigorating sensation, making it a delightful choice for those who enjoy minty freshness.
Effortless Usage
Enjoying VELO Ice Cool is a breeze. Simply follow these steps:
Remove a pouch from the can.
Place the pouch under your upper lip.
Relax and await the nicotine buzz.
Keep the pouch in place for 5 to 60 minutes.
When finished, dispose of the pouch in the trash—do not swallow.
Why Choose VELO Ice Cool
In a nutshell, VELO Ice Cool has earned its reputation as the finest nicopod on the market for several reasons:
Exceptional Flavor
The blend of fresh mint and subtle sweetness in VELO Ice Cool creates a unique and enjoyable experience for users. It strikes a perfect balance that keeps you coming back for more.
Consistent Nicotine Release
With VELO snus' market-leading formula, you can count on a smooth and consistent nicotine release. This reliability sets VELO Ice Cool apart from the competition.
Discreet and Convenient
The discreet pouches ensure you can enjoy VELO Ice Cool anytime, anywhere, without drawing unwanted attention. They fit seamlessly into your daily routine.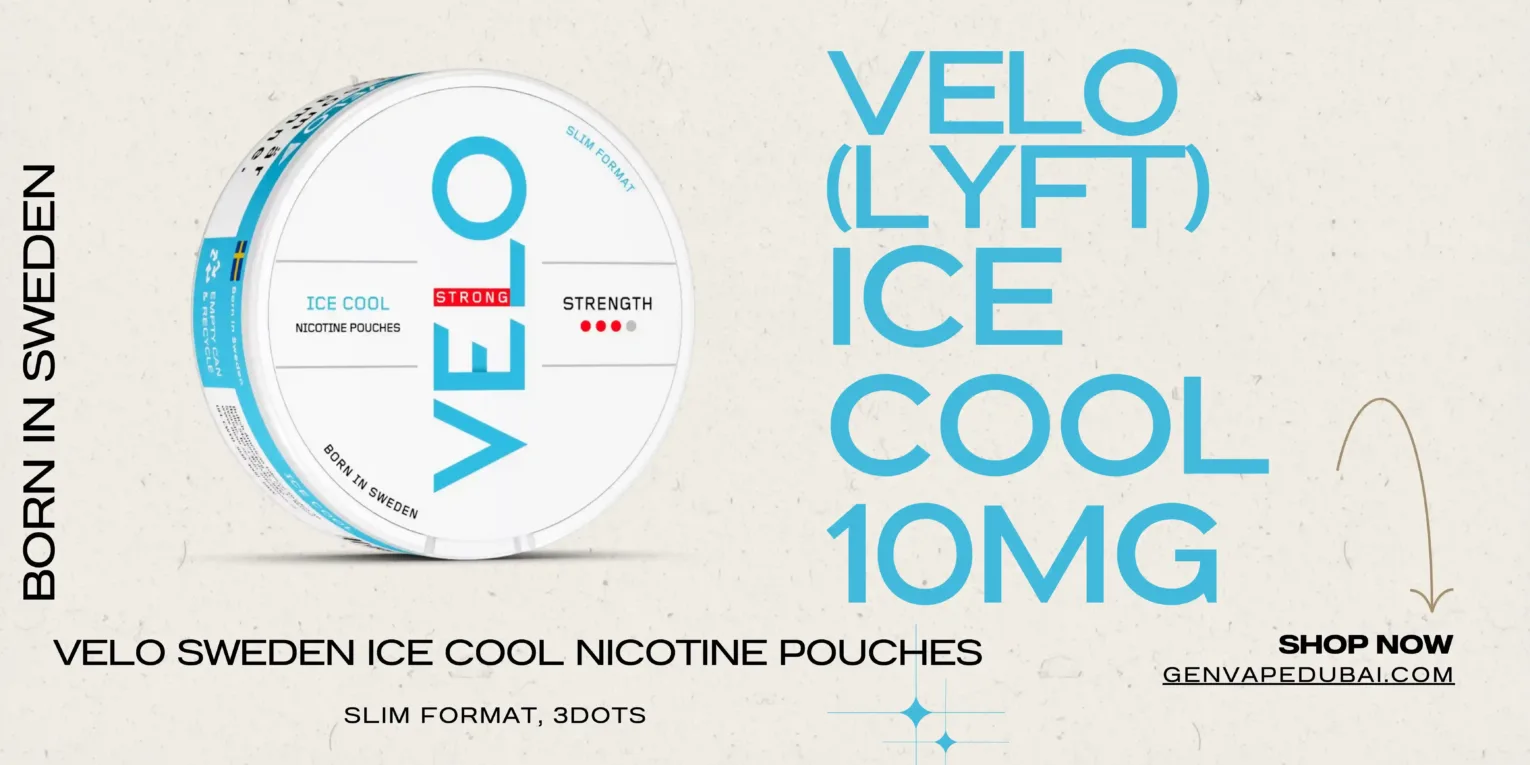 Elevate Your Vaping Experience with VELO Ice Cool
For discerning enthusiasts seeking a refreshing and satisfying nicotine pouch experience, VELO Ice Cool is the top choice. Exclusively available at genvapedubai.com, it's the ideal companion for those who appreciate quality and innovation in their vaping journey.
LYFT To VELO
VELO Ice Cool's transformation from LYFT brings a refreshing perspective to the world of nicotine pouches. Its global popularity, fresh mint flavor, and discreet pouches make it a standout choice for those looking to enjoy nicotine without the smoke. Elevate your vaping experience with VELO Ice Cool today.