VELO ROYAL PURPLE STRONG SLIM 10MG IN DUBAI & UAE
Velo Royal Purple Taste " with the taste of red grapes now in a strong version and slim format. Born in Sweden"
Check out the VELO ROYAL PURPLE STRONG SLIM 10MG Nicotine Pouch at Gen Vape Dubai, a truly regal experience that Dubai and the UAE can't get enough of.These all-white pouches are designed to provide a discreet and comfortable fit, making them perfect for on-the-go use. This is not just a nicotine pouch; it's a statement of refined taste and exquisite satisfaction.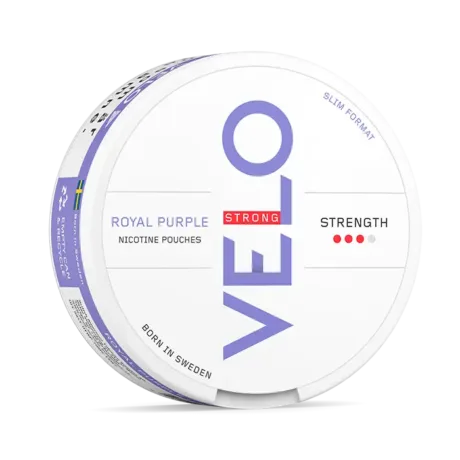 99% Less Toxicants than a cigarettes
Specifications:
Brand: VELO Nicotine Pouches
Type: Snus
Format: Slim
Taste: Grape & Berries
Nicotine level: 10mg/g
Portions/can: 20pcs
Content: 14g
Strength: Regular
Origin: Sweden
Manufacturer: British American Tobacco Ltd
Experience the luxurious flavor of Velo Royal Purple Slim Strong nicotine pouches. These are made with high-quality ingredients and it doesn't contain any tobacco. Each pouch offers a long-lasting flavor and nicotine release, making them perfect for those who want to enjoy nicotine without smoking or chewing tobacco. With their slim format, they offer a subtle presence under the lip while delivering a satisfying nicotine hit.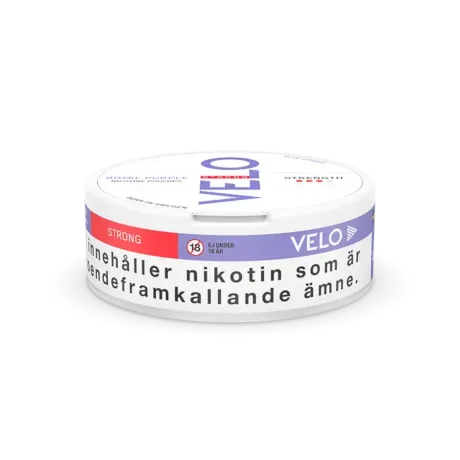 Elevate your nicotine experience with Velo's Royal Velvet Bliss. The world is watching, but it's within your reach. Order now and experience the epitome of luxury in a nicotine pouch.