VELO TROPIC BREEZE SLIM 6MG
Velo Tropic Breeze Taste " with the taste of the tropical fruits mandarin, passion fruit and mango in a normal strength. Born in Sweden"
For those entering into the world of snus, VELO TROPIC BREEZE SLIM 6MG is the perfect choice. Tailored for beginners already accustomed to nicotine, it strikes the ideal bala nce between potency. This delectable snus delights the palate with the sweet and blissful flavors of tropical fruits, including mandarin, mango, and passion fruit.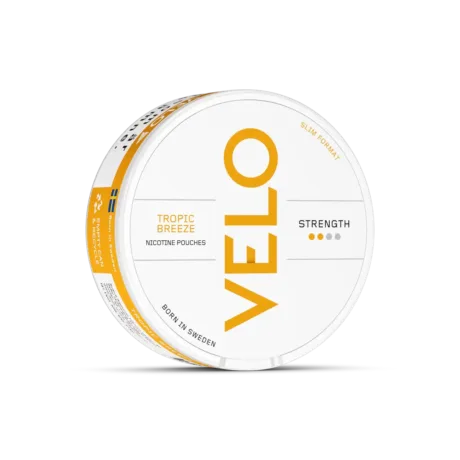 BEST BUY VELO SWEDEN IN DUBAI & UAE
Specifications:
Brand: Velo Nicotine Pouches
Type: Snus
Format: Slim
Taste: Mandarin, Passion fruit & Mango
Nicotine level: 6mg/g
Portions/can: 20pcs
Content: 14g
Strength: Regular
Origin: Sweden
Manufacturer: British American Tobacco Ltd
At Gen Vape Dubai, we are providing all flavors of velo nicotine pouch in Dubai & UAE. Transport yourself to the vibrant landscapes of Asia with VELO's Mandarin and Passion Fruit. This extraordinary blend brings the essence of tropical fruits, marrying the zesty allure of mandarin with the pure taste of passion fruit and the luscious sweetness of mango. The result is a velvety, soft-textured sensation that will invigorate your daily routine and immerse your senses in a tropical paradise.