IQOS TEREA TROPICAL MENTHOL Available in Dubai, UAE
Looking for a cigarette substitute that doesn't contain all of the harmful chemicals and toxins? Take a look at IQOS TEREA Tropical. This product is ideal for anyone trying to quit smoking or simply looking for a tasty and enjoyable way to get their nicotine fix. With its distinct flavor, even the most discerning smoker will enjoy this product. IQOS TEREA Tropical can also be a good choice for smokers who want to switch to a healthier and more sustainable alternative due to its lower health risks. Place your order now and enjoy a delicious and healthy cigarette!
IQOS TEREA TROPICAL MENTHOL Taste, It is a menthol variant with a delightful orange tropical flavor. It is classified as menthol, which provides a cooling sensation in the throat and lungs.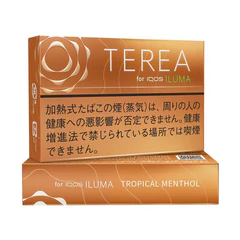 Body ★★★☆☆ 3/5
Intensity ★★★★☆ 4/5
Aroma ★★★★☆ 4/5
Origin Japan
Aromatic Notes Menthol and Exotic Fruits