VELO CARIBBEAN SPIRIT STRONG SLIM 10MG
Velo Caribbean Spirit Taste " with the taste of refreshing coconut and pineapple in a strong portion. Born in Sweden"
Unleash the Tropical Delight
Explore the VELO CARIBBEAN SPIRIT STRONG SLIM 10MG at Gen Vape Dubai. Indulge in a summer escape to the Caribbean with VELO Caribbean Spirit Strong Slim. This innovative Nicotine Pouch lets you experience the magic of the tropics in every pouch.
If you're a fan of nicotine pouches, you're likely well-acquainted with the renowned LYFT Carribean Spirit. However, times are changing, and VELO Carribean Spirit is the new kid on the block. VELO nicotine pouches are synonymous with reliable quality and consistent nicotine delivery. These pouches, a product of BAT (British American Tobacco), are celebrated for their swift nicotine absorption, thanks to their patented nicotine salt.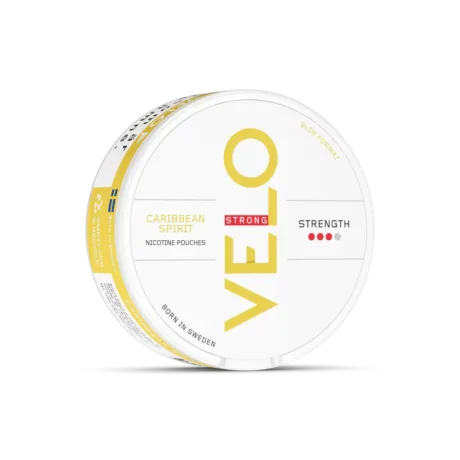 Specifications:
Brand: Velo Nicotine Pouches
Type: Snus
Format: Slim
Taste: Coconut and pineapple
Nicotine level: 10mg/g
Portions/can: 20pcs
Content: 14g
Strength: Strong
Origin: Sweden
Manufacturer: British American Tobacco Ltd
Here's why you should make this your go-to choice:
Natural Ingredients: Crafted with the finest natural ingredients, this tobacco-free pouch ensures a cleaner and safer alternative to traditional Snus or cigarettes.
Robust Flavor: Immerse yourself in the rich, bold flavor of the Caribbean. Each pouch bursts with a tantalizing blend of tropical fruits, leaving a long-lasting impression on your taste buds.
Long-Lasting Freshness: Thanks to our special slim format, VELO Caribbean Spirit offers a discreet yet powerful release of flavor that lasts longer than ever before.
Nicotine Kick: Feel the invigorating rush of nicotine without the smoke or mess. Our product provides a quick and controlled release for the ultimate satisfaction.