White Fox Black Slim All White Portion 30 mg
Taste "Slim All White portion with a taste of dark tobacco & smoke"
Discover  White Fox Black Slim All White Portion 30 mg at Gen Vape Dubai. GN Tobacco introduces a 4th nicotine pouch in their White Fox series – White Fox Black. White Fox Black comes with tastes of dark "tobacco", a bit smoky, and a fresh after taste of rose. The nicotine strength lands around 30 mg/g which is enough to give you a real kick!
The portions fleece they use enables the best possible experience of nicotine release and taste compared to traditional portions.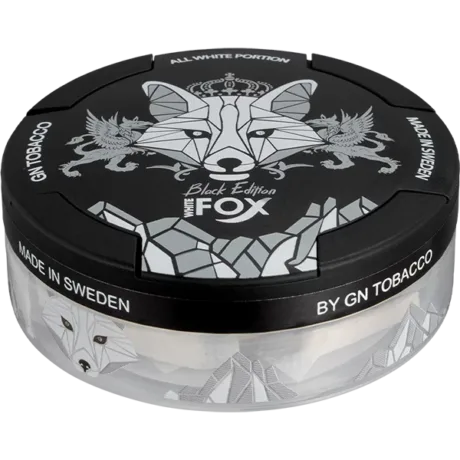 White Fox Black Tobacco Specifications:
Product Type: Nicotine Pouch
Format: Normal
Flavour: Tobacco & Mint
Strength: Strong
Nicotine (mg)/ Gram: 30mg
Nicotine (mg)/ Pouch: 12.4
Pouches/Can: 20pcs
Weight/ Pouch(Gram): 0.75
Content/Can: 15g
Origin:  Sweden
Manufacturer: GN Tobacco
GN Tobacco has more products than just White Fox
Furthermore, We are a retail Vape shop in International City, Dubai, UAE. We deliver all over the UAE. Gen Vape Dubai is a retail outlet specializing in selling electronic cigarette products. Our best-selling products are disposable vape, Nicotine Pouches, pod system, Juul, iqos, heets, Myle, e-liquid, yuoto disposable, pod salt disposable, Nexus, Elf Bar, vgod, vape coil, vape device, etc. write us a review on Trust Pilot.