KILLA Watermelon Extra Strong Slim All White 16 in Dubai
Taste"Slim all-white portion with a taste of watermelon"
KILLA Watermelon Extra Strong Slim All White 16 is a super strong, 100% tobacco-free nicotine pouch with the fresh taste of watermelon and just a hint of mint.
KILLA Watermelon by NGP Empire comes with 20 all white pouches. With this one, you can expect a real kick from the nicotine, delivering 20mg/g. The summer freshness of the watermelon combines perfectly with the cooling taste of mint.
Killa Watermelon description, the sweet fresh familiar taste of watermelon flows in nicotine pouches of Killa Watermelon. This very popular flavour of Killa, has been in the top three of the Killa range for years. The nicopods are of very good quality and have a nicotine yield of 16 mg/g.
The KILLA series is manufactured by NGP Tobacco who has become one of the leading manufacturers with products such as KILLA, Pablo and more.
KILLA Watermelon Extra Strong Slim All White 16 Specification:
Brand: Killa Nicotine Pouches
Type:  Nicotine pouch
Format: Slim All White
Taste: Watermelon
Nicotine level: 16mg/g
Content: 16g
Strength: Extra strong
Manufacturer: NGP Tobacco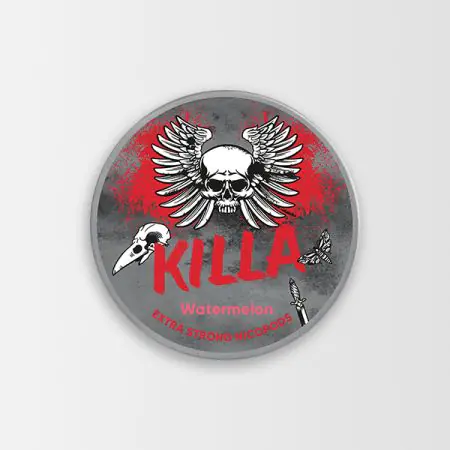 At genvapedubai.com, we offer fast and reliable shipping in the UAE, so you can start enjoying your Killa nicotine pouches in no time. Plus, our prices are affordable, so you can enjoy the benefits of Killa nicotine pouches without breaking the bank.